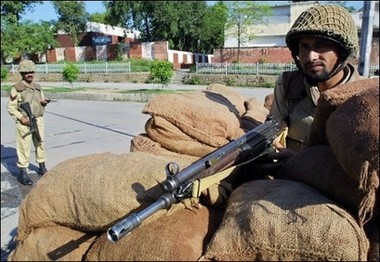 A Pakistani soldier takes position near the Red Mosque during a heavy exchange of fire with Islamic militants in Islamabad.(AFP Photo)
A Pakistani cleric at the centre of a seven-day siege at an Islamabad mosque agreed on Monday to hold "last-ditch" talks over a loudspeaker with ministers and Islamic leaders to end the crisis.
Prime Minister Shaukat Aziz said the government would allow Abdul Rashid Ghazi to be held under house arrest with his ailing mother if he surrenders and frees women and children inside the Red Mosque.
Fears of a bloodbath have kept President Pervez Musharraf from launching a full-scale raid during the standoff at the complex, where foreign fighters and rebels with links to Al-Qaeda are also said to be holed-up.
At least 24 people have been killed in the past week.
A team headed by former premier Chaudhry Shujaat Hussain and including 11 clerics will try to persuade Ghazi to give himself up and to free the so-called hostages, Aziz said.
"The team will negotiate through a speaker system so that all team members can hear whatever Ghazi says," Aziz added.
"We are not sending any negotiating team inside the mosque as they are unpredictable people and have also taken six parents hostage," Aziz added.
Ghazi has vowed to die with his followers rather than surrender. He said he hoped his "martyrdom" would spark an Islamic revolution in Pakistan, where Musharraf has fought a bloody battle with extremism since 2001.
But at one point last week he offered to give himself up if he and his mother were put under house arrest.
Aziz said he had a list of several "heavyweight" militants inside the mosque but refused to give their names. He said there was a hardcore of around 40 extremists, led by three or four key rebels.
He said there were "reports" that they included Abu Zar, a commander of the extremist group Harkatul-Jihad-e-Islami, which has been accused of involvement in the murder of US journalist Daniel Pearl and an attempt to kill Musharraf.
Military ruler Musharraf, who appointed ex-premier Hussain to lead the talks at a high-level meeting earlier in the day, has previously told the mosque rebels to surrender or be killed.
Religious Affairs Minister Ijaz-ul Haq, who is also part of the delegation, told AFP by telephone as he approached the mosque that it was the final chance for Ghazi to relent.
Security forces fired teargas and exchanged fire with the rebels in clashes earlier Monday, killing one of the mosque's radical students, security officials said.
A car was set ablaze in the fighting and black smoke rose above the mosque.
The government's patience began to run short on Sunday when a commando from Musharraf's own elite special forces group was killed while trying to flee the alleged human shields inside.
Tensions at the mosque began several months ago when its students launched an anti-vice campaign in a quest to bring in Islamic law, kidnapping several people it accused of involvement in prostitution, including seven Chinese.
Musharraf faced pressure from close ally Beijing to do more to protect Chinese nationals in Pakistan after three Chinese workers were shot dead by suspected Islamic militants in the northern city of Peshawar on Sunday.
Security sources termed it an apparent revenge attack over the mosque siege.
Meanwhile pro-Taliban militant commanders told around 20,000 tribesmen in the Bajaur district bordering Afghanistan, some carrying rocket launchers, that they must exact revenge for the siege.