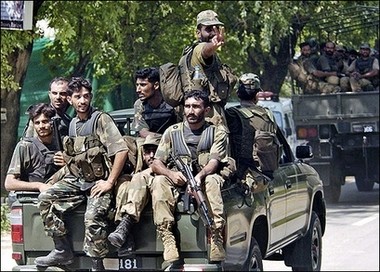 Pakistani soldiers from the Special Services Group return from the Red Mosque after a strike against radical students, in Islamabad.
Pakistani troops on Wednesday cleared the Red Mosque compound in Islamabad of militants after two days of bitter fighting that left more than 60 people dead, the military said.
Commandos killed the last handful of rebels who fought to the death in tunnels and bunkers beneath the living quarters of their hardline chief, cleric Abdul Rashid Ghazi, who was shot dead late Tuesday.
As the guns fell silent, troops began combing for booby traps left by the insurgents, some linked to Al-Qaeda and the Taliban, in the sprawling mosque and an adjoining girls' religious school in the heart of the leafy capital.
President Pervez Musharraf ordered the assault after talks with Ghazi to free women and children allegedly held during a week-long siege at the complex -- which itself left 24 people dead -- collapsed.
Musharraf was set to address the nation about the crisis on Thursday.
Officials said there appeared to have been fewer children and women inside the compound when it was first raided than initially believed and that almost all had already fled or been rescued.
The militants were holed up in fortified tunnels and trenches dug beneath the building. Three more were killed overnight after mounting "stiff resistance", the army said.
The final death toll would not be available until the complex had been cleared, Arshad said. He added that at least 53 militants were killed while a soldier died overnight from his injuries, taking the army toll to nine.
Newspaper reports quoting officials said the likely total was anywhere between 80 and 200 dead, although there was no official confirmation.
Around 60 women and children have emerged from the complex since the assault was launched at dawn on Tuesday, while officials said on condition of anonymity that a number of them were in hospital.
The government previously said around 300 civilians were in the compound being held as human shields by the militants.
In previous months Ghazi and his burqa-clad female students from the girls' madrassa had led a campaign involving kidnappings to bring Taliban-style Islamic laws to Islamabad.
The bodies of Ghazi, his mother and two other unidentified people were being flown to the cleric's home village of Sadwani in Punjab province for burial, senior police officer Qayyum Nawaz Qaisarani told AFP.
The mosque uprising in the heart of the capital, close to foreign embassies, has posed an unprecedented challenge to military ruler Musharraf, a key ally in the US-led "war on terror".
Security forces have been placed on alert for possible suicide attacks, officials said.
Ghazi, 43, the public face of the mosque and its deputy leader, said before he was killed in the fighting that he and his followers would rather die than surrender and hoped his death would spark an Islamic revolution in Pakistan.