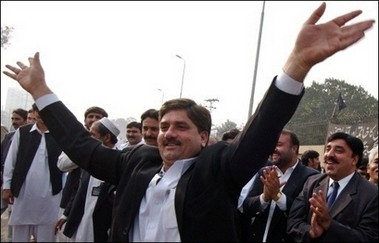 Lawyers celebrate the stepping down of President Pervez Musharraf as army chief in Peshawar (Photo: AFP)
Pakistan's Pervez Musharraf was sworn in as a civilian president for the first time Thursday, eight years after seizing power in a coup, in a ceremony broadcast live on national television.

The oath was administered in the Aiwan-e-Sadr presidential palace here one day after Musharraf bowed to fierce international pressure and stepped down as head of Pakistan's powerful military.
Wearing a dark traditional tunic, he pledged to uphold the constitution and to do his utmost to preserve and protect the nation.