At least four Chinese Muslims detained at Guantanamo Bay will be transferred to the Pacific island nation of Palau, President Johnson Toribiong said.
The government received confirmation Friday from the United States government that the Uighurs would be temporarily resettled in Palau, Toribiong said in comments seen by AFP Monday.
"Four Uighurs are confirmed to temporarily settle in Palau," Toribiong said.
The president did not give any other details of the move, including the likely timing of the Uighurs' shift from the controversial detention camp in Cuba.
He had earlier said the transfer was expected to occur before January.
The lawyer for some of the 13 Chinese Muslims held at Guantanamo said Friday that two of the detainees expected to be transferred next month.
"Two of my clients have accepted offers" to relocate to Palau, lawyer George Clarke said, noting that they could leave the US "war on terror" prison in mid-October.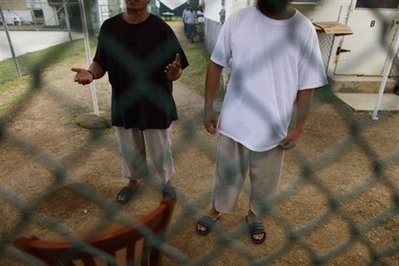 A US military issued photo shows Chinese Uighur detainees trying to talk to visiting members of the media at Guantanamo Bay US Naval Base in Cuba
He said others among the 13 Chinese Uighurs remaining at Guantanamo had accepted the offer but did not give details.
Uighurs are a minority Muslim and Turkic-speaking group in China's northwest.
The detainees were part of a group of 22 Uighurs living in a camp in Afghanistan when the US-led invasion of the country began in October 2001, in the wake of the September 11 attacks.
They said they had fled to Afghanistan to escape persecution in their vast home region of Xinjiang.
The US cleared them of any wrongdoing four years ago, but they remained in legal limbo, with Washington unwilling to send them back to China, despite Beijing's demands.
China wanted the detainees returned home to be tried, saying they belonged to the separatist East Turkestan Islamic Movement. But US officials refused to extradite the Uighurs because of fears they could face torture.
Beijing is restricted in how much direct pressure it can place on Palau, as the two do not have diplomatic relations.
Four of the original group of detainees were flown to Bermuda in June from Guantanamo, where some 229 "war on terror" suspects are still held. Another five were released to Albania in 2006.
US President Barack Obama has promised to shut down Guantanamo by January, and Washington has been pushing for other countries to accept inmates with no charges against them.
Toribiong announced in June that his country, with a population of around 21,000 people, had agreed in principle to provide a temporary home for the Uighur detainees.
He has denied any link between agreeing to accept the detainees and negotiations over future US aid to Palau, saying the decision was made as a "humanitarian gesture".
In June many Palauans expressed uneasiness about the former detainees resettling in their tiny country, which only has a smattering of Muslim inhabitants.
Some were worried that the detainees had been linked with "terrorism", even though the US had cleared them of any wrongdoing.
Made up nearly of 600 islands, of which only nine are inhabited, Palau lies about 800 kilometres (500 miles) east of the Philippines, and was administered by the US until independence in 1994.