RAMALLAH, West Bank, March 7, 2009 (AFP) - The Western-backed Palestinian prime minister Salam Fayyad stepped down on Saturday to try to pave the way for the formation of a national unity government and reconciliation with Hamas.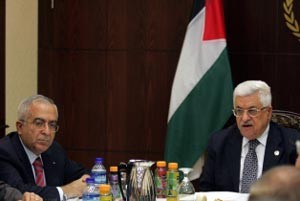 Palestinian president Mahmud Abbas (R) and prime minister Salam Fayyad (L) attend an executive committee meeting in the West Bank city of Ramallah on March 7, 2009 (Photo: AFP)
"Prime minister Salam Fayyad has submitted his resignation from the government of president Mahmud Abbas. This resignation will take effect following the formation of a national consensus government by the end of this month," the statement said.
Fayyad, a politically independent former World Bank economist, was appointed premier following the Islamist Hamas movement's bloody takeover of the Gaza Strip in June 2007, which cleaved the Palestinians into two hostile camps.
Palestinian factions met in Cairo on February 26 to launch a reconciliation process aimed at forming a national unity government in the wake of Israel's massive offensive against Gaza at the turn of the year.
The factions, including Hamas and Abbas's secular Fatah party, agreed to form five committees to oversee the creation of a government that would supervise Gaza reconstruction and prepare for presidential and parliamentary elections in January 2010.
"We consider that the positive climate seen in the first round of dialogue offers an opportunity that has to be exploited to put an end to divisions and as a basis on which to reach unity and reconciliation," Fayyad's office said.
The committees are set to convene in Cairo on Tuesday, and Abbas said Fayyad would remain as acting prime minister while the talks continue.
"We have asked Salam Fayyad to continue his work until we see the results of the dialogue," Abbas told reporters in Ramallah.
Israel, the European Union and the United States continue to blacklist Hamas as a terrorist organisation and in the past have boycotted any Palestinian government that includes the group, which is sworn to Israel's destruction.
The Palestinians formed a unity government in March 2007, but it was boycotted by the international community because it included Hamas and came to an end three months later with the Hamas takeover of Gaza.
Hamas, which won an upset victory in parliamentary elections in 2006, never recognised the independent Fayyad-led government appointed after its takeover of Gaza.
"Hamas is not sorry to see the resignation of Fayyad and his government," Hamas spokesman Fawzi Barhum said.
"This is the end we expected because this government is illegitimate and illegal and built on failed and mistaken policies connected to American agendas."
In his more than 18 months as premier Fayyad has won praise from Western and Israeli leaders for spearheading political and economic reforms and launching a security crackdown in the Israeli-occupied West Bank.
He had sought to lead post-war reconstruction efforts in Gaza as well, and developed a plan for rebuilding that won pledges of some 4.5 billion dollars from the international community at a donors' conference in Egypt last week.
The United States pledged 900 million dollars, but Secretary of State Hillary Clinton said it would take measures to ensure this did not fall into the "wrong hands" -- an allusion to Hamas.
She also said on her first visit to the region last week that Washington would have nothing to do with a Palestinian unity government that included Hamas unless it renounces violence and recognises Israel and past peace deals.
The three-week Israeli offensive in December and January killed more than 1,300 Palestinians and flattened large swathes of the impoverished territory, which has been under a crippling Israeli blockade since Hamas took over.
Egypt has been struggling to shore up the fragile January 18 ceasefires that ended the war, while Palestinian militants have fired more than 120 rockets and mortar rounds at Israel and the military has carried out dozens of air raids.