Palestinian President Mahmoud Abbas and his Hamas rivals open crisis talks on Wednesday to end deadly factional fighting before a new bid to revive stalled peace negotiations with Israel.
Palestinian ambassador to Saudi Arabia Jamal al-Shobaki said the talks between Abbas and Hamas leaders Khaled Meshaal and Ismail Haniyeh, the Palestinian prime minister, would start around 1000 GMT in the holy city of Mecca.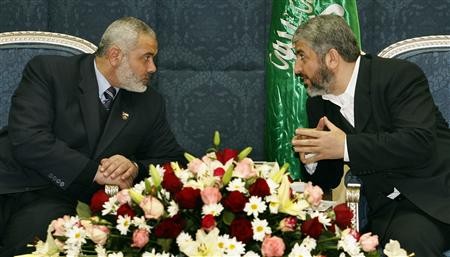 Palestinian Prime Minister Ismail Haniyeh (L) listens to Hamas leader Khaled Meshaal after their arrival in Jeddah
The meeting will take place in a hotel overlooking the Grand Mosque in Mecca, Islam's holiest site, in what Saudi Arabia -- playing an unofficial mediating role -- hopes will offer inspiration to the two sides to bury their differences.
"We hope the talks will yield good results," Shobaki said, adding that they were open-ended and could extend to Thursday.
Adding extra urgency to Palestinian efforts to end factional fighting, Israeli Prime Minister Ehud Olmert said he would meet Abbas and U.S. Secretary of State Condoleezza Rice on February 19 for a "significant" bid to restart long stalled peace talks.
Speaking in Washington, U.S. State Department spokesman Sean McCormack said that Rice "firmly believes that there are the underpinnings in the region that exist to make some progress, to exploit an opening and try to bring the sides closer together."
Abbas' Fatah movement and Islamist group Hamas, which won a parliamentary election last year, have been locked in a battle for power that has spiralled into violence and killed more than 90 people since December.
Previous efforts to stem the bloodshed and find common political ground have resulted in short-lived ceasefires and a threat by Abbas to call a new parliamentary election, a move Hamas has said would be tantamount to a coup.
PRESSURE ON HAMAS
Abbas and Meshaal were seen chatting as they drove to Mecca in the same car from the nearby port city of Jeddah.
The two delegations held separate meetings with Saudi Arabia's King Abdullah in Jeddah on Tuesday.
King Abdullah, who called the reconciliation talks, urged the Palestinian leaders to "respond to the voice of reason" and avoid a civil war that would put decades of gains in the struggle with Israel at risk, Saudi media said.
Pressure will be on Hamas to compromise.
Israel and its ally the United States do not want Abbas to agree to a unity government unless Hamas meets Western demands to recognise Israel and renounce violence.
Fatah officials in Mecca say they will insist that a new unity government adhere to a 2002 Arab peace initiative, sponsored by U.S. ally Saudi Arabia, that offers Israel a comprehensive peace in return for a Palestinian state.
They will also focus on a Hamas acceptance of the programme of the Palestine Liberation Organisation (PLO) -- another means of achieving an implicit recognition of Israel that could end an international aid blockade.
Haniyeh, speaking before leaving his base in the Gaza Strip for the talks, said Hamas would do all it could to reach an agreement over the formation of a unity government.