Every time Nader Ismail comes to Ramallah he makes his way to the white mausoleum of Yasser Arafat, the father of the Palestinian struggle for statehood, to say a prayer.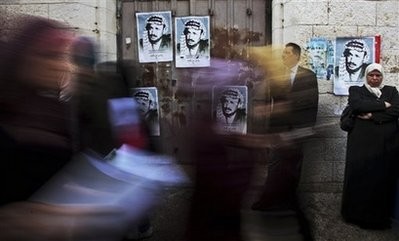 Palestinians walk pass posters showing the late President Yasser Arafat during a rally supporting President Mahmoud Abbas in the West Bank city of Ramallah, Monday, Nov. 9, 2009
"President Arafat is a symbol of the Palestinian revolution, and I cannot come to Ramallah without reading the fatiha (Koranic verses) over his tomb," says Ismail, who lives in a small village 50 kilometres (30 miles) away.
Five years after the leader passed away, the Palestinians are fiercely divided and no closer to their dream of statehood, with the divergent paths of peaceful negotiations and armed struggle both at an apparent impasse.
Arafat's successor Mahmud Abbas, his authority confined to the Israeli-occupied West Bank, has said he will step down in January out of frustration with Washington's failure to get Israel's right-wing government to freeze settlements ahead of fresh peace talks.
His rivals in the Islamist Hamas movement meanwhile rule over an increasingly isolated Gaza Strip still devastated from an Israeli onslaught at the turn of the year aimed at halting rocket attacks.
The two sides are as bitterly divided as they were when Hamas seized power in Gaza in June 2007, a crisis most Palestinians believe the wily and charismatic Arafat would have never allowed.
"If this division had happened during Arafat's era he would have felt as though he had died 10 times every hour," chief Palestinian negotiator Saeb Erakat, a lifelong Arafat aide, told AFP.
"This black rift is the most painful Palestinian wound."
During the nearly four decades in which Arafat led the Palestinian struggle he often had troubled relations not only with Israel and Arab states but with Hamas, which vehemently opposed his decision to sign the 1993 Oslo autonomy accords launching talks with Israel.
But most Palestinians, even former rivals, remember Arafat for catapulting their cause onto the world stage and never giving up on their core demands of an independent state with its capital in east Jerusalem.
A recent opinion poll found 81.9 percent of Palestinians in all the territories missed him.
"When Abu Ammar was around the entire world respected us, but now we are very weak," said Salim Abu Nadir, 36, a teacher in the West Bank town of Nablus, using Arafat's popular nickname.
"Now we're like a football that gets kicked around... America and Europe and some Arab countries are pressuring us to give in to Israeli conditions."
Abbas has said he will not run in the elections he called for January 24 because of the US failure to convince Israel to halt settlement activity which the Palestinians say threatens the establishment of a viable state.
The Palestinians' internal rift meanwhile appears to be deepening, with Hamas having rejected the elections called by Abbas and vowing to prevent the vote from being held in Gaza.
Hamas, which still has grudging respect for Arafat despite his security forces' crackdown on the Islamist group in the 1990s, blames Abbas for causing the divide by abandoning Arafat's willingness to resort to armed struggle.
Arafat "refused to make concessions on principles," senior Hamas official Ismail Radwan said. "We paid a price for that, but that was how we were able to preserve national unity."
He "believed in the option of resistance as one of many strategic options for the Palestinian people to recover their rights, which is the opposite of Mahmud Abbas, who has targeted the resistance," he added.
In the West Bank there is a mass rally planned to commemorate Arafat, who died in a French hospital on November 11, 2004 at the age of 75.
But in Gaza those who revere the departed leader do so largely in secret, fearful of attracting the attention of the Hamas-run police, who killed seven people at a giant rally held in Gaza on the third anniversary of his death.
There are a few gift shops in downtown Gaza City that sell souvenir keffiyehs, Palestinian flags and posters of Arafat, but the owner of one of them asked that his full name not be printed for fear of retaliation.
"Ever since Yasser Arafat died we have felt that we are isolated and deprived of many things," he says, referring to Israeli and Egyptian sanctions placed on the territory when Hamas seized power.
"This isolation is not only from the Israeli occupation but from us, because we have isolated ourselves."