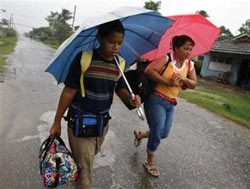 Storm hits Santa Cruz del Sur in Cuba

Storm-weary Cuba assessed the damage Sunday from Hurricane Paloma, which pounded the island just weeks after deadly storms Gustav and Ike claimed hundreds of lives and exacted millions of dollars in rebuilding costs.
Paloma was gentler than its two predecessors except in a few regions, including hard-hit Santa Cruz, which felt the full force of the storm's Category Three 200-kilometer (125-mile) per hour winds late Saturday.
"I've never seen anything so destructive in the 40 years I've been living here," Sandra Salazar, a technician with Cuba's telephone company, told AFP, describing the fury of the storm.
At 2100 GMT, a weakened Paloma -- now a tropical depression -- was stalled some 15 miles (25 kilometers) south-southwest of Camaguey, drifting northward at around one mile (two kilometers) per hour.
The storm's winds late Sunday were about 35 miles (55 kilometers) per hour and forecasters from the US National Hurricane Center in Miami said Paloma was likely to weaken further. They were expecting it to become a weak low pressure system overnight.
Authorities did not report any victims, in part thanks to the Communist island's vaunted civil defense system. More than 500,000 Cubans were evacuated to central provinces. Some 3,000 foreign tourists were taking shelter on northern holiday islands in the region of Ciego de Avila, the Civil Defense said.
The town of Santa Cruz found itself in Paloma's crosshairs 76 years after another major hurricane devastated the area, killing more than 3,000 people in what was the largest natural disaster in modern Cuban history.
Authorities said the country was up to the challenge of rebuilding, as it regrouped from the third massive storm to hit Cuba in as many months.
"We'll have to continue rebuilding, continue to move forward," General Jose Ramon Pardo Guerra, chief of staff of the Civil Defense, told local radio.
Across the storm-hit regions, reams of workers fanned out to clear away debris, especially in Santa Cruz, where some 4,000 dwellings were damaged or destroyed. A telecommunications tower also was felled, and several factories reported damage.
"It is the third heavy blow to hit our economy, but we have to accept it and move on," Vice President Jose Ramon Machado said while reviewing the damage in Santa Cruz.
Before lashing Cuba, Paloma left devastation in its wake on the Cayman Islands, a British territory with tourism and banking interests, south of Cuba's southern coast, with piles of debris, flattened trees, and localized flooding.
The smaller islands of Cayman Brac and Little Cayman were devastated by Paloma, the strongest storm to hit the islands since 2004's Hurricane Ivan.
This season's storms, including Hurricanes Gustav and Ike, have left hundreds dead across the Caribbean and Central America and wrought billions of dollars in damage.
Gustav and Ike, which struck Cuba on August 30 and September 9, caused an estimated 9.3 billion dollars in damage, according to official reports. The storms damaged tourism infrastructure and destroyed about 80 percent of crops.