Rescuers picked through the rubble of destroyed homes Saturday as officials prepared for a mass burial of people killed by the violent eruption of Indonesia's most active volcano.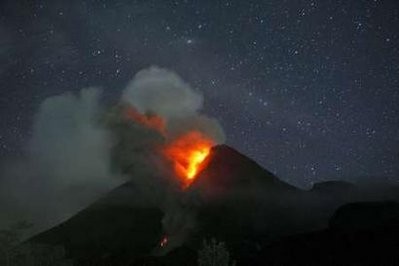 Mount Merapi volcano spews smoke as seen from Sidorejo village in Klaten, near the ancient city of Yogyakarta, November 3, 2010.
Ash, deadly heat clouds and molten debris gushed from the mouth of Mount Merapi and shot high into the sky, triggering chaos on the roads as people fled their homes.
The death toll from Friday's eruption -- its most violent in more than a century -- stood at 77.
The latest deaths bring the overall toll to 120 since the volcano started erupting on Java island on October 26, a day after a tsunami killed more than 400 people in a remote area off Sumatra island.
The mountain spewed ash over a vast area including the Central Java provincial capital of Yogyakarta, about 28 kilometres (17 miles) to the south, and continued erupting Saturday, officials said.
Many of the dead were from Argomulyo village, 18 kilometres from the crater, according to emergency response officials and witnesses, with several children under the age of 10 killed.
Dozens from the village were to be buried in a mass grave in Yogyakarta, disaster management spokesman Sutopo Purwo Nugroho said Saturday.
"We will bury them in a place where it's safe. There's no way we will have the burial in their village, as the village is within the 20-kilometre (12-mile) danger zone," he said.
Rescuer Utha told AFP as he delivered 10 bodies to the hospital, "I found three bodies: a child, mother and father, still in their bed. They must have been sleeping when the hot ash struck their house.
"We also found a dead man with a phone still in his hand."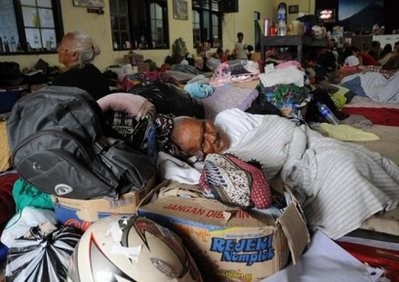 People rest at an evacuation centre in Wukirsari, Sleman on November 4, 2010.
At least 156 people were injured in the latest eruption, Nugroho said, adding "most suffered burn injuries".
The ranks of evacuees increased to more than 166,000 people after officials widened the danger zone from 15 to 20 kilometres early Friday. Everyone living in the area was ordered to evacuate their homes immediately.
Kepuharjo village chief Heri Suprapto, who was evacuated 12 days ago with his wife and four of his children, said he was worried for the safety of people from his village.
"The people from my village are scattered in various temporary shelters. I cannot monitor them all the time," he said.
"We are worried here in shelters. All we do is just wait for aid," Suprapto said, adding it was hard to find suitable milk for his two-year old daughter.
"I can only pray to God. I pray for the mountain to stop erupting," he said.
Merapi continued to belch hot ash and gas, government volcanologist Surono said Saturday.
"The eruption from Merapi has not stopped since November 3, although its intensity has gone down and up again," he said. But he added there was no plan to expand the danger zone beyond 20 kilometres.
The international airport at Yogyakarta was closed as ash clouds billowed from the 2,914-metre (9,616-foot) mountain to the altitude of cruising jetliners. It would stay closed until Sunday, said general manager Agus Andriyanto.
"We have to keep the airport closed until 6:00 am tomorrow (2200 GMT Saturday). We'll have an evaluation again as there is a chance we may keep it closed," he said.
Merapi killed around 1,300 people in 1930 but experts say the current eruptions are its biggest convulsions since 1872.
President Susilo Bambang Yudhoyono announced the deployment of an army brigade to help with relief and reconstruction in central Java, as the country struggles to cope with dual natural disasters.
A tsunami smashed into villages on the remote Mentawai island chain following a 7.7-magnitude earthquake off the coast on October 25, killing 428 people and leaving 15,000 homeless.
"The military is preparing to deploy one brigade to handle disaster management," he told a press conference.
He added that the government would buy the cattle that residents had been forced to leave behind near the volcano, after locals resisted evacuation because the livestock is their main source of income.
"We will purchase their livestock at the proper prices," he said.
The Indonesian archipelago has dozens of active volcanoes and straddles major tectonic fault lines known as the "ring of fire" from the Indian to the Pacific oceans.