PARIS, April 4, 2010 (AFP) - The archbishop of Paris and head of the Catholic Church in France on Sunday denounced paedophile priest scandals as a smear campaign targeting the pope.
Cardinal Andre Vingt-Trois told Le Parisien newspaper that shocking cases that have recently been made public of priests sexually abusing children date back several decades and that these concerned a small minority in the clergy.
"There is a smear campaign aimed at the pope," he said.
"And yet it was Cardinal Ratzinger who, as head of the Congregation for the Doctrine of the Faith, encouraged bishops to take action against paedophilia by systematically informing Rome of such cases."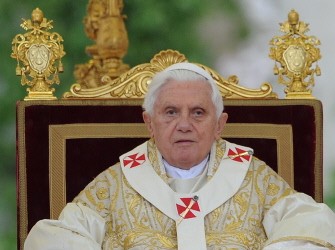 Pope Benedict XVI looks on during the celebration of Easter mass on April 4, 2010 at St Peter's square at the Vatican. AFP photo
Before he became Pope Benedict XVI, Cardinal Joseph Ratzinger spent 24 years as head of the Congregation, once known as the Holy Office of the Inquisition.
The interview with Cardinal Andre Vingt-Trois took up a full page of the popular newspaper and ran on Easter Sunday, a religious holiday widely celebrated in France, where Catholicism is the number one religion.
France has not seen the sort of large-scale paedophile scandals that have rocked the Irish, German and US churches, but there have been some cases such as the arrest last week of a Christian radio station director.
Father Jacques Gaimard, who worked in the northern Normandy region, was charged on Wednesday with sexual assaults on a minor in 1992 and 1993 and released on bail.
"Faced with these appalling crimes committed by some priests, we are filled with horror," said the cardinal. "We all feel shame and regret."
"Having said that, there is no wave of paedophile acts, but a series of revelations of acts committed over the past fifty years," he said.
Of the 20,000 priests practicing in France, about 30 have been convicted and jailed for sexual crimes and not all of them involving paedophilia, said the cardinal.