According to Yonhap, South Korean President Park Geun-hye will meet with a group of Japanese business leaders on Monday in Seoul to discuss ways to bolster bilateral economic cooperation, her office Cheong Wa Dae said.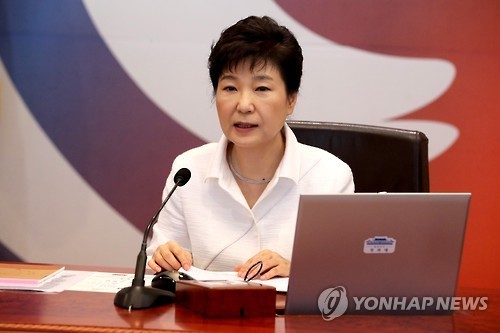 In this photo, taken on Sept. 13, 2016, South Korean President Park Geun-hye speaks during a Cabinet meeting at the presidential office Cheong Wa Dae in Seoul. (Yonhap)
At the presidential office, Park will hold talks with 19 members of Keidanren, the Japanese Business Federation, including its Chairman Sadayuki Sakakibara, presidential spokesman Jung Youn-kuk said.
"President Park plans to call for bolstering economic cooperation between the enterprises of the two countries," Jung told reporters.
The members of Keidanren are in Seoul to attend a meeting with their South Korean counterparts.
In December 2014, the chief executive held talks with some members of the Japanese business group to discuss ways to bolster two-way trade and mutual investment.