Han Gwang-ok, presidential chief of staff, on Monday called on the presidential secretariat to make all-out efforts to prevent any vacuum in state affairs in the wake of the impeachment of President Park Geun-hye, reported by The Yonhap.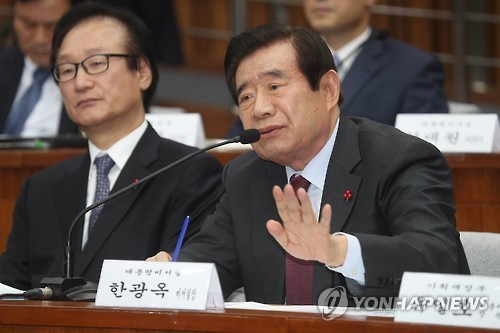 This photo, taken on Dec. 5, 2016, shows Han Gwang-ok (R), presidential chief of staff, speaking during a parliamentary probe into a corruption scandal involving President Park Geun-hye and her confidante Choi Soon-sil at the National Assembly in Seoul. (Yonhap)
His made the call during his first meeting with some 400 officials of Cheong Wa Dae, three days after Park was impeached by the National Assembly over a series of corruption allegations involving herself and her longtime friend.
"I hope that all members of the presidential secretariat will faithfully fulfill their duties and calmly deal (with the current situation related to Park's impeachment)," Han said.
"All public servants, with an extraordinary resolve, must make all-out efforts to prevent any vacuum in all areas, including diplomacy, security and the economy." he added.
Meanwhile, senior presidential secretaries, including those in charge of civil, diplomatic and economic affairs, are set to give policy briefings to Acting President and Prime Minister Hwang Kyo-ahn for two days starting Monday.