President Park Geun-hye's supporters rallied again outside the Constitutional Court on Wednesday, the last day the court is expected to announce the date of its ruling on the president's impeachment.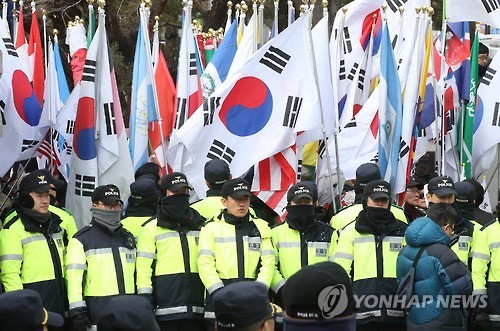 Activists urging the reinstatement of President Park Geun-hye rally behind police outside the Constitutional Court in Seoul on March 8, 2017. (Yonhap)
Park was impeached by parliament in December for allegedly letting her close friend Choi Soon-sil meddle in state affairs and colluding with her to extort millions of dollars from local conglomerates, including Samsung Group.
The court has been reviewing the impeachment to determine whether to permanently oust or reinstate Park, with the ruling expected to be made no later than Monday.
If the court follows past practice, it will announce the date of its ruling about three days in advance, which in the case of the impeachment would be Wednesday.
Dozens of pro-Park activists shouted their opposition to the impeachment outside the court, claiming parliament's impeachment resolution was an "illegal con game" that should be dismissed entirely.
Kim Pyung-woo, an attorney who defended the president during earlier hearings, called the trial void as long as the court has a vacancy on its nine-member bench. He demanded again that the court delay its ruling and open additional hearings until the vacancy is filled.
The deliberations have been conducted by eight justices since Chief Justice Park Han-chul retired in January upon completing his term. His successor should be named by the president, whose powers have been suspended since the impeachment.
Meanwhile, a former defense minister and leader of the activists was rushed to a hospital after consuming only water and salt inside a tent outside the court the past week, a spokesman for the group said.
Anti-Park protesters said they will gather in Gwanghwamun Square in central Seoul at 7 p.m. and then march toward the presidential office Cheong Wa Dae. They have staged weekly candlelight rallies calling for the president's impeachment since her corruption scandal broke in October.