The top Roman Catholic cleric in the Holy Land called Friday on the faithful to pray for peace in this troubled region at midnight mass in Bethlehem, Jesus's traditional birthplace.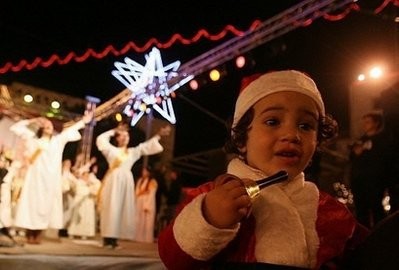 A girl dressed in a Santa Claus costume attends Christmas Eve celebrations outside the Church of the Nativity in the West Bank city of Bethlehem. (AFP Photo)
"I address myself to all believers throughout the world, and I urge them to pray for this Holy Land. It is a land that suffers and that hopes," the Latin Patriarch of Jerusalem Fuad Twal told worshippers at St Catherine's Church, adjoining the Church of the Nativity.
The prayers capped a day of festivities in Bethlehem, unseen since the outbreak of Israeli-Palestinian violence at the turn of the millennium.
Live rock music mingled with traditional carols in Manger Square on Christmas Eve as thousands of pilgrims and Palestinians celebrated.
The celebrations, together with a resurgence in tourism, have provided some respite from the pall cast by the wall lurking over the entrance to the town -- part of Israel's controversial West Bank separation barrier -- and continued concern for the plight of Bethlehem's dwindling Christian population.
But the patriarch warned true peace would not come to the Holy Land until Israelis and Palestinians treat each other with respect.
"Its inhabitants are brothers who see each other as enemies," he told the gathering that included Palestinian president Mahmud Abbas. "This land will deserve to be called holy when she breathes freedom, justice, love, reconciliation, peace and security."
Earlier, thousands gathered outside the Church of the Nativity, watching as Austrian rock group Cardiac Move belted out a selection of Christmas-themed rock songs from a large stage.
"These are the local people," said shopkeeper Adnan Subeh, 40, looking on approvingly as about 200 Palestinian teenagers jumped up and down in front of the stage, waving their arms enthusiastically to a rendition of the 1980s Band Aid anthem "Do they know it's Christmas?"
"They are here because we are living in a big jail, they want to come here on this night to get away from it all, to enjoy (life) for once," he said.
The concert was a part of "Rock to Bethlehem," a plan to bring about a dozen international music acts to show solidarity with the youth of Bethlehem.
But mindful the rest of Christendom may not be as appreciative of a full blown rock concert in Manger Square on Christmas Eve, the Bethlehem municipality selected just two groups to perform.
"It was great for us to send a sign to the people of the Holy Land that they are not forgotten," Johnny Krysl, lead singer of Cardiac Move, told AFP after the show, while signing autographs for a handful of young fans.
"Bethlehem brought us Christmas and we wanted to bring Christmas back to Bethlehem," he said.
Earlier, a carnival-like atmosphere prevailed in the town as merchants hawked balloon animals, cotton candy, steamed corn and strong, black coffee poured from traditional copper urns.
Inside the Church of the Nativity, black-clad monks chanted as hundreds of pilgrims quietly waited in line to pray in the grotto many Christians believe is the spot where Mary gave birth after she and Joseph found no rooms at the inn.
"This is the place where God gave us his son, so it is very special for me to be here, for me and my whole community," said Juan Cruz, 27, from Mexico.
The celebrations cap a year when tourists returned to the town in the Israeli-occupied West Bank.
Buoyed by the West Bank's relative calm, more than 1.6 million people have visited Bethlehem so far this year, Palestinian Tourism Minister Khulud Duaibess said. Some 15,000 pilgrims were expected for Christmas.
In 2008, one million tourists visited the town.
However, the tourism boom has not brought prosperity to Bethlehem, with most tourists whisked in for the day and from hotels in Israel, Duaibess said.
The financial woes have been exacerbated by the eight-metre (26-foot) high concrete barrier that separates Bethlehem from Jerusalem. It forms part of the projected 700-kilometre (440-mile) West Bank separation barrier.
Israel says it is a security barrier needed to stop attacks inside the Jewish state. Palestinians say it cuts them off from much of their land and hampers tourism, trade and freedom of movement.