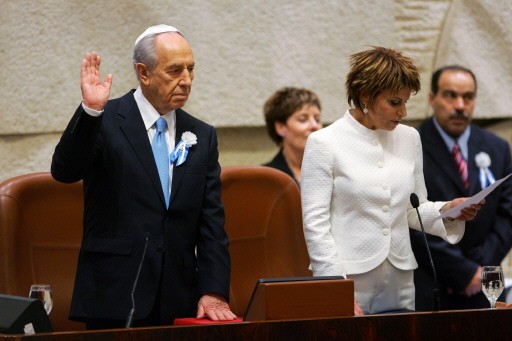 Mr. Shimon Peres lays one hand on the bible and raises the other as he listens to Knesset Speaker Dalia Itzik read his oath of allegiance on taking office as the Jewish State's 9th president in the Israeli parliament, July 15, 2007 in Jerusalem.
Israeli elder statesman and Nobel peace laureate Shimon Peres was sworn in Sunday as president, pledging to keep up peace efforts in his new post that crowns an unparalleled career lasting more than half a century.
Peres took the oath of office in parliament less than three weeks shy of his 84th birthday, replacing disgraced Moshe Katsav in the largely ceremonial post for a seven-year term as Israel's ninth president.
His landslide election by the Knesset as head of state was the first vote for a top office that he has won despite having held just about every senior position in the Jewish state.
As he bid good-bye to the chamber where he has sat for the past 48 years, Peres promised to serve as president for all of the nation's citizens and to keep up efforts toward peace with the Palestinians.
"I am no longer the messenger of a party but a trustee of the nation, of all the citizens of the state ... (who) must encourage the peace process. Within the house. With our neighbours. In the whole region."
He pledged to work to make sure Israel's non-Jewish citizens did not face discrimination.
"If they do not enjoy complete equality, we will not be at peace with ourselves and with our fellow men.
"Israel ... must be a good and warm home for Jews who are not Israelis, as well as for Israelis who are not Jews."
He said he would also work on Israel's relations with the diaspora, and said Israeli development priorities should include Jerusalem, the Negev, the Galilee and the Jordan valley alongside with Jordan and the Palestinians.
"My eyes have seen Israel in its most difficult hours and also in moments of achievement and spiritual uplifting.
"It is true that in the picture stains also appear. It is true that we have flawed and have erred, but please believe me -- there is no room for melancholy."
Supporters say the international prestige of Peres, who up to now has been admired abroad far more than at home, could lift the presidency from a disgrace heaped upon the office after his two predecessors were ousted by scandal.
Katsav agreed to a controversial plea bargain in which rape charges were dropped in return for him pleading guilty to charges including sexual harassment, indecent acts and witness subornation.
Katsav's predecessor, the late Ezer Weizman, resigned in 2000 after revelations he received around 450,000 dollars from a French millionaire while a minister and an MP.
Peres, the two-time prime minister who has never won a national election, has said the presidency could be his last service to Israel.
His landslide win in parliament on June 13 marked a triumph that laid to rest the ghosts of seven years past, when he famously lost the same ballot to the rightwing Katsav despite being the overwhelming favourite.
In the July 2000 presidential election Peres was widely expected to win, only to watch in shock as the obscure Katsav from Likud emerged victorious after the surprise defection of ultra-Orthodox MPs.
That humiliating defeat -- and his loss in 2005 of the Labour leadership -- sealed Peres's image as a perennial loser after he failed to lead his party to victory in parliamentary elections in 1977, 1981, 1984, 1988 and 1996.
Peres commands great respect abroad, including for his role in the 1993 Oslo accords with the Palestinians that saw him win the 1994 Nobel Peace Prize along with former premier Yitzhak Rabin and Palestinian leader Yasser Arafat.
He has held a string of top posts, including the foreign and defence portfolios, and is considered the father of Israel's biggest deterrent -- its suspected but undeclared nuclear weapons programme.
Peres dedicates much of his time to promoting peace between Israel, the Palestinians and the Arab world through his Peres Centre for Peace, which aims to build an infrastructure for peace by promoting socio-economic development.
Born in 1923 in what was then Poland but is now Belarus, Peres emigrated to Palestine when he was 11. He speaks English and French as well as Hebrew. He and his wife Sonya have three children, eight grandchildren and two great-grandchildren.