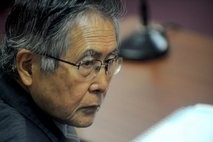 File picture shows Peru's former president (1990-2000) Alberto Fujimori in a courtroom in Lima in September, 2009 (AFP photo)
LIMA (AFP) – The Peruvian Surpreme Court early Sunday unanimously confirmed a 25-year prison sentence on the country's former president Alberto Fujimori.
A Supreme Court review of Fujimori's convictions was requested in November by his defense lawyer, who asked asked the high court to revoke his client's sentence for human rights abuses.
"None of the 10 pieces of evidence that went to determine his guilt as mastermind of premeditated murder have to do with the issue of him giving the order for the Barrios Altos and La Cantuta" killings in 1991 and 1992," attorney Cesar Nakazaki told the court.
The defense lawyer also asked for an annulment of Fujimori's conviction in the kidnapping of a journalist and a businessman in 1992, also because he claimed there was not enough evidence to prove that the former president had ordered the abductions.
Fujimori has been found guilty in four trials since he was extradited from Chile in September 2007.
He was found guilty of abuse of power and sentenced to six years in prison in December 2007.
In July, he pleaded guilty to charges of illegally paying a 15 million dollar bonus to his security chief and right-hand man, Vladimiro Montesinos, and was sentenced to seven and a half years in prison. The sentence is under appeal.
And on September 30 he was given another six year sentence and fined nine million dollars after he admitted charges of wiretapping and bribing journalists, politicians and business leaders.
Fujimori's political downfall began in 2000 when a video of Montesinos was broadcast on television, showing the spy chief buying off an opposition lawmaker.
Soon after, Fujimori fled to Asia and resigned via fax from a Tokyo hotel.
Congress refused to accept his resignation and instead voted to sack him and ban him from public office for 10 years.
In 2005, Fujimori, who was trying to stay involved in Peruvian politics while in Japanese exile, flew to Chile on a private jet. On arrival, he was arrested and Peru demanded his extradition, which Chile finally granted in September 2007.
Poor health has dogged the former president, slowing trial proceedings. He has been treated for hypertension and cancer, among other ailments.
But the ex-president's political legacy appears far from extinguished.
Fujimori's daughter Keiko enjoys her own political career and remains deeply loyal to him.
She is likely to run for the Peruvian presidency in 2011 and, if successful, she has vowed to pardon her father.