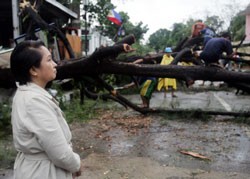 Philippines President Gloria Arroyo inspects damage outside Malacanang Presidential Palace in Manila, Sep. 28, 2006, after Typhoon Xangsane ploughed into the main island of Luzon (AFP Photo)
The buzz of chainsaws could be heard echoing around Manila at first light Friday, as the city woke up to the mammoth task of repairing the devastation of Typhoon Xangsane.
Workers were even using machetes to hack through trees that had been ripped from the ground and now clogged hundreds of city streets.
Every part of the city, from the Presidential Palace to shanties, were struck by Xangsane's fury.
In the poorer parts of the city many makeshift houses were destroyed by the wind and floods due to the torrential rain.
"I was in my front room of my house when the typhoon hit," said Daisy Arevalo a maid in Taguig, one of the poorer suburbs of Manila.
"The wind was so loud and the rain so heavy that it sounded like bricks falling on the roof. The tin roof on the back of the house was ripped off by the wind and disappeared."
Some of the exclusive residential compounds around Manila were not spared, as massive trees some 60 feet (20 meters) high were uprooted by the gale force winds.
Many once-leafy boulevards looked as though they had been bombed, with tree branches, power lines, overhead lights and other assorted debris littering the streets.
Even the Presidential Palace in Manila saw dozens of trees torn down.
At Global City, a new residential and shopping district in suburban Taguig City, billboards were blown down, trees uprooted and air conditioned tents used for corporate promotions were torn apart while the "Market Market" shopping Mall lost parts of its roof.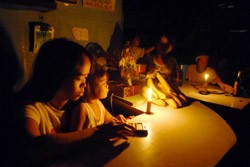 More than 40 million people were without electricity after all power plants on the main island of Luzon were shut down as Typhoon Xangsane hammered northern Philippines (AFP Photo)
One resident of Forbes Park, who did not want to give his name, said: "This is the worst I have seen it. Manila has been hit before by typhoons but not like this. Some areas around here look like they have been bombed."
In the historic town of Kawit, just outside Manila, large areas remained under water, prompting the coast guard to bring in rubber boats and amphibious vehicles.
Hundreds of streets and roads around the metropolis were still clogged by fallen trees and other debris bringing chaos to morning commuter traffic, a day after the typhoon's passing.
Traffic lights were still out throughout the city as authorities ordered all schools, government offices and financial markets to remain closed for a second day to ease congestion and prevent accidents.
However the power outage affected even water pumps and gasoline stations, forcing residents to line up to buy drinking water and fuel from the few places offering working gasoline pumps and bottled water.
Source: AFP