MANILA (AFP) – A Muslim clan accused of a political massacre last month killed at least 200 other people during its rule over a southern Philippine province, the nation's human rights commissioner said on Wednesday.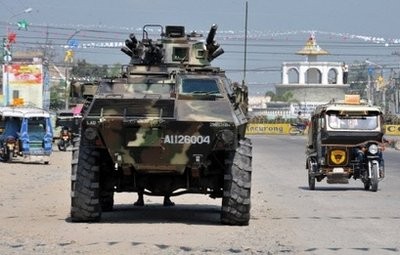 An armored personnel carrier sits parked on a road in Tacurong, in Sultan Kudarat province next to the southern Philippine province of Maguindanao on December 8 (AFP photo)
"We are looking at a minimum of 200," Commission on Human Rights chairwoman Leila de Lima told reporters, adding that the bodies were believed to be buried in mass graves scattered across Maguindanao province.
"These are victims of the same clan and the private armies."
De Lima said there were witnesses to the killings who were only now feeling confident to speak out against the Ampatuan clan because its leaders had been arrested over the November 23 massacre of 57 people.
"Given the right opportunity there will be witnesses who can exactly pinpoint these mass graves," she said.
Five police officers who had direct knowledge of some of the murders were among those now willing to speak out against the Ampatuans, according to de Lima.
Andal Ampatuan Snr, the patriarch of the clan, had been governor of Maguindanao and an ally of President Gloria Arroyo's ruling coalition since 2001.
Police allege his son and namesake, a local mayor, of leading last month's massacre to stop the challenge of a political rival in next year's elections.
Andal Ampatuan Jnr has been charged with 25 counts of murder so far.
The government allowed the Ampatuans to run private armies as part of a strategy to contain a long-running Muslim separatist insurgency in Maguindanao and other parts of the southern Philippines.
But Arroyo turned against her former allies after the massacre, then declared martial law in Maguindanao on Friday night and accused the Ampatuans of rebellion.
Ampatuan Snr and other leaders were among 62 people arrested in martial law raids. Justice Secretary Agnes Devanadera has said Ampatuan Snr will be charged with rebellion and possibly murder.
In a separate briefing on Wednesday, the nation's police chief said at least 161 people were suspected of having directly participated in the massacre.
Police and army officers were among those who carried out the killings, National Police Director General Jesus Verzosa said.
Giving the most detailed official account of the massacre yet, other police officers told the briefing that 26 of the victims were women and 32 were journalists.
Some of the victims' bodies had been mutilated with knives as well as shot, police said.