More than half a million Filipinos living overseas, who help pump billions of dollars into the Philippines' economy, Saturday began voting for a new president.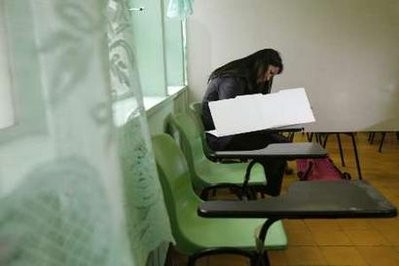 A Filipino woman fills in the ballot at a polling station in Hong Kong April 10, 2010. (AFP)
Nine million Filipinos live outside the Philippines with many working as maids, nurses, construction workers and sailors and the 590,000 registered voters can cast their votes until May 10.
In Hong Kong an army of voters -- at least 80 percent are female domestic helpers -- was expected to flood the consulate-run polling station on Sunday, their usual day off, said election official Victorio Dimagiba.
"I think we'll have a very high turnout tomorrow and in the coming weeks," Dimagiba told AFP.
Foreign department spokesman Eduardo Malaya said in Manila that Filipinos around the world will cast their votes in 93 embassies and consulates to elect the successor to President Gloria Arroyo. Turnout is expected to be high.
Hong Kong and Singapore, which have a combined 128,000 voters, will serve as a testbed for a computerised system being used for the first time this year said Commission on Elections (Comelec) official Armando Velasco.
"Through this (overseas voting), we will know whether or not this really works," Velasco told reporters, acknowledging popular concern that automated elections, aimed at curbing fraud and speeding up the process, will not work.
The machines are due to be used by 50 million voters in the Philippines itself on May 10.
Those outside Hong Kong and Singapore would vote by mail or by visiting their embassies or consulates to fill out ballots.
The Philippines' economic diaspora send billions of dollars every year to their families, helping make ends meet in a country where one in three people lives on a dollar or less a day.
Polls show the battle is shaping up as a contest between two senators, Benigno Aquino, son of the late democracy icon and former Filipina leader Corazon Aquino, and multi-millionaire developer Manuel Villar.
Domestic helper Marina Saranglao, 47, believes Aquino is the best bet to lead her native country.
"Most of (the candidates) are corrupt, but not Aquino," Saranglao told AFP.
In Singapore, domestic helper Susanita Salmorin, 50, cast her vote for Aquino, saying his family's political legacy assured her that he would make a good leader.
"It's because of the experience of his father, and his mother was a president.... They have a record of good service," she said.