MANILA, Nov 19, 2011 (AFP) - The lawyer for ex-Philippine president Gloria Arroyo Saturday challenged a court's jurisdiction to order her arrest on vote-rigging charges as she spent a second day under police guard in hospital.
The ailing 64-year-old faces a possible life sentence if convicted by the lower court in Manila, after a tumultuous week in which the government went head-to-head with the Supreme Court to stop her leaving the country.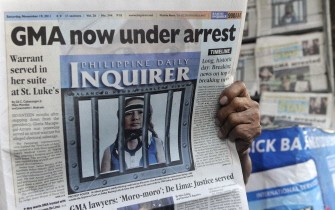 AFP - An elderly man reads a Manila newspaper on November 19, 2011 that carries a digitally manipulated photograph of former Philippine president Gloria Arroyo behind bars while wearing a neck brace.
The lower court ordered her arrest on Friday after the government filed charges that she ordered 2007 senatorial elections rigged to ensure her allies won, alleging she conspired with a feared warlord to tamper with the vote.
The arrest was the culmination of a campaign by President Benigno Aquino to hold Arroyo to account for alleged corruption, but her lawyers said Saturday she would continue a legal battle to invalidate the charges against her.
Lawyer Raul Lambino said the lower court would hear a motion on Monday to lift the arrest warrant on the grounds that the criminal suit should have been filed elsewhere.
"We feel that there has been a violation of due process when they railroaded this case and filed the information at a wrong court," he told ABS-CBN television.
The Arroyo camp earlier suggested the case should be dealt with by a special court, called Sandiganbayan, which handles cases involving public officials.
"We have already filed our corresponding motions questioning the jurisdiction of the regional trial court," Lambino said.
"The court should not have issued a warrant of arrest."
A second lawyer from the Arroyo camp, Ferdinand Topacio, said she would also ask the Supreme Court on Monday to declare illegal the work of an investigative body which gathered the evidence for the criminal charge against her.
Once that is achieved, the arrest warrant would lose its legal basis, he told reporters outside the hospital where Arroyo was under police guard.
"She was treated with respect and dignity (during the arrest), but we only wished they respected her rights under the constitution," Topacio said.
Both lawyers said the former president, who has undergone three unsuccessful spinal surgeries this year for a rare bone disease, was holding up relatively well after she was arrested in her hospital bed.
However, Topacio said: "The doctors said she should not yet leave the hospital. She's under additional strain."
A spokesman for Aquino, who is on the Indonesian island of Bali for an East Asia summit, said that he would not object to her remaining in hospital rather than going to jail if her lawyers sought a court ruling to that effect.
"If they do that, we will not object," spokesman Ricky Carandang said. He added that Aquino had missed a summit gala dinner Friday evening because he was constantly on the phone to officials in Manila as events unfolded.
The two lawyers said police were scheduled to take Arroyo's fingerprints and mugshot ahead of trial, and Topacio said her camp had appealed to police and the court not to release the photograph to the public.
"Let's treat the former president with the dignity due her as a former head of state.... Let's not further humiliate her, considering that she's suffering from an ailment," he said.
Arroyo, the country's second female president, would also be its second leader to stand trial. Her predecessor Joseph Estrada was convicted of plunder in 2007 but pardoned by Arroyo 40 days later.
Arroyo arrived at Manila airport on Tuesday last week, in a wheelchair and looking frail, saying she was seeking to travel overseas for medical treatment after the Supreme Court overturned a government travel ban on her.
The Supreme Court ruled she should be allowed to travel because she had not yet been charged with any crimes.
But in a high-stakes political standoff, the government defied the Supreme Court and ordered immigration authorities to stop her from leaving the country, while racing to file charges against her.