Philippines (AFP) – Philippine authorities on Thursday took into custody a politician named as the top suspect in an election massacre that left at least 57 people dead, Interior Secretary Ronaldo Puno told reporters.
Andal Ampatuan Jnr was taken by helicopter from his hometown in Maguindanao province on Thursday morning to a nearby airport, from where he would be flown to Manila for questioning, Puno said.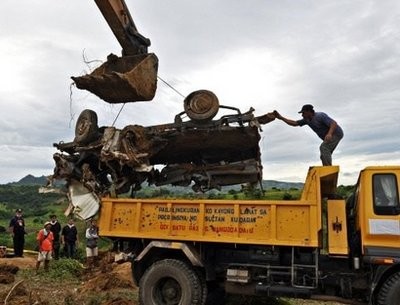 A backhoe lifts a mangled vehicle unearthed from a shallow grave as investigators try to find more bodies, victims of a massacre in Ampatuan town, Maguindanao province. (AFP photo)
Ampatuan has denied being involved in the killings. "There is no truth to that," Andal Ampatuan Jnr told reporters here when asked whether he led the killings.
News of the politician's detention comes as Puno also announced that all the police from the town of Ampatuan are being investigated.
Meanwhile Philippine security forces have poured into the territory of where they have arrested and disarmed gunmen.
An AFP photographer witnessed armoured personnel carriers patrolling highways in the southern province of Maguindanao, and television footage showed police commandos surrounding buildings in major towns controlled by the clan. Related article: forces secure Philippine province
Police announced the operation had secured the first arrests since the brutal explosion of political violence, saying several gunmen were detained on Thursday morning.
"We don't have an exact number (of those arrested) but our policemen in the area have arrested several," national police Director General Jesus Verzosa said on DZBB radio.
Maguindanao is a part of the lawless Mindanao island, where Muslim clans rule vast areas backed by their own private armies, often out of the national government's control.
Monday's massacre occurred after about 100 Ampatuan gunmen allegedly abducted a convoy of aides and relatives of a rival politician, Esmael Mangudadatu, plus a group of journalists.
The victims were snatched as they were travelling in a six-vehicle convoy to nominate Mangudadatu as the opposition candidate for provincial governor in next year's elections.
They were shot at close range, some with their hands tied behind their backs, and dumped or buried in shallow graves on a remote farming road close to a town bearing the Ampatuan name.
Fifty-seven bodies have been recovered so far, and police were expected to continue searching Thursday for more potential victims.
Ampatuan Snr had been grooming his son to take over as governor of Maguindanao.
The victims' relatives alleged the Ampatuans organised the murders so that Mangudadatu would not run for that post.
The ruling Lakas Kampi CMD coalition late on Wednesday expelled both Ampatuans from the party.
Ampatuan's brother, Zaldy, who was governor of an autonomous region on Mindanao that included Maguindanao, was also expelled.
"(They were) expelled for their failure to uphold party ideals and principles in their area of jurisdiction," the coalition's nomination for president in next year's elections, Gilberto Teodoro, said in a statement.