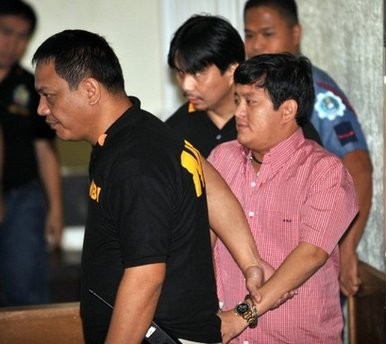 Police officers escort Andal Ampatuan Jnr (right), the prime suspect in the country's worst political massacre, inside a court in Manila on January 5. (AFP photo)
MANILA, Jan 5 (AFP) – The prime suspect in the worst political massacre in the Philippines pleaded not guilty when he appeared in a special police court on Tuesday on multiple counts of murder.
The case against Andal Ampatuan Jnr, accused over the killing of 57 people in the violence-wracked southern Philippines last month, has thrown the spotlight on the nation's corruption-plagued political and justice systems.
More than 30 heavily-armed police escorts took Ampatuan to the special court inside the national police headquarters for his arraignment and a bail hearing, the first steps in judicial proceedings that many fear could drag on for years.
"Not guilty," Amptuan Jnr's lawyer Sigfrid Fortun told the court when asked to enter a plea as his client stood beside him.
The judge adjourned the hearing until next week after the prosecution asked to present over a dozen witnesses to block Ampatuan's application for bail.
Ampatuan Jnr allegedly led 100 of his men in stopping a convoy carrying supporters of political rival and journalists on November 23. The dead included pregnant women and about 30 journalists.
The victims were systematically murdered and buried in shallow pits or dumped in grasslands just near the national highway in Maguindanao province, where Amapatuan Jnr's father and namesake was governor.
Ampatuan Snr as well as several other clan members were later arrested after martial law was imposed in Manguindanao and charged separately with rebellion.
Ramon Casiple, an analyst with the Institute for Political and Economic Reform, said the public must monitor the trial "every step of the way."
"What we are facing here is a very strong clan with very strong political connections and the capability to intimidate or even kill witnesses," he told AFP.
"This puts the justice system to a test, because past cases with heavy political overtones have never been satisfactorily concluded."
Casiple cited the trial of former president Joseph Estrada, who was deposed in a military-backed popular revolt in 2001, for massive corruption.
After a marathon six-year trial, he was convicted and sentenced to life imprisonment, only to be pardoned and set free by his successor Gloria Arroyo.
"At the end of the day, it's still politics talking. And these warlords will not go down quietly," Casiple said.
Some in Ampatuan Jnr's battery of high-profile lawyers also worked in the Estrada trial, and they are expected to raise technicalities to delay this case, he said.
One judge has already backed out from the explosive case, saying he feared for his life. There have also been calls from prosecutors for the justice department to ensure the safety of witnesses.
In her report to Congress defending martial law, Arroyo said those massacred bore "marks of despicable torture, contempt and outrageous torment."
She also said that clan followers had threatened to carry out attacks if their patrons were arrested.
The Brussels-based International Crisis Group said last month, however, that Arroyo was partly to blame for the massacre because she had allowed a "local despot to indulge his greed and ambition."
Ampatuan Snr had controlled Maguindanao province for most of the past decade and was grooming his son to take his place as governor in national elections in May.
Ampatuan Snr's influence and power grew because Arroyo allowed him to maintain a 3,000-strong heavily armed militia as part of a government strategy to contain Muslim separatist insurgents in the south.
In exchange for the support, Ampatuan also helped deliver votes from the province to Arroyo and her candidates in the 2004 election allegedly through cheating.
The shocking crime forced her to cut political ties with the clan, but critics say the Ampatuans may still hold enough political power to avoid the penalties many believe they deserve.
"I have serious doubts about the whole exercise," said Harry Roque, chairman of the advocacy group CenterLaw Philippines, who is also a private prosecutor representing the slain journalists.