A local Philippine politician was killed on Monday when hooded gunmen opened fire on a convoy carrying about 50 people in another explosion of election-linked violence, police said.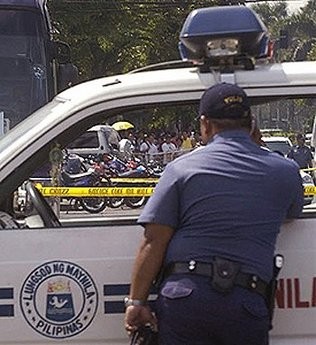 A local politician was killed after gunmen ambushed a convoy carrying about 50 people in the Philippines on Monday, police said, echoing a horrific election-linked massacre last month.
The ambush in the northern province of Ilocos Norte came barely a month after a massacre of 57 people in the south highlighted a brutal culture of political violence that has long existed in the Southeast Asian nation.
In Monday's assault, four hooded men shot at the convoy of 50 people carrying candidates and supporters of the opposition Nationalista Party after the group had left a Christmas party in the town of Dingras, local police said.
Joen Caniete, who was running for a seat on the Dingras council in next year's national elections, was riddled with bullets and died immediately, provincial police director Senior Superintendent Benjamin Lusad said.
Six other people travelling in the convoy, including two village officials and a police escort, were wounded, according to Lusad.
The Nationalista Party, headed by millionaire property developer Manny Villar who is running second in opinion polls ahead of the May presidential election, expressed outrage at the attack.
"The Nationalista vows justice for the victims as we search for swift and comprehensive solutions to end political violence and the culture of impunity," party spokesman Gilbert Remulla said in a statement.
"We also call and challenge all political parties and candidates for the 2010 elections to help in establishing clean, honest and peaceful elections as we move the country forward to peace and prosperity."
Ilocos Norte election supervisor Alipio Castillo said Dingras may need to be put under special government control during the election campaign to prevent even more violence and cheating.
He said an electrical utility official who planned to run for mayor of Dingras had also been shot dead two months ago.
"Rule of law must and will prevail, not banditry," Castillo said.
Ilocos Norte is the political stronghold of former dictator Ferdinand Marcos's family.
His son and namesake, is currently one of the province's lower house members of parliament and is running for a Senate seat next year.
The late dictator's wife, Imelda, is planning to run to replace Ferdinand Jnr in the lower house seat and is regarded by political analysts as a certainty to win.
However election violence infests the whole of the Philippines, not just Ilocos Norte, as evidenced by the massacre of 57 people in the southern province of Maguindanao last month.
A son of the then-Maguindanao governor has been charged with murder over the massacre, which authorities alleged he organised to prevent a rival politician from challenging him for a provincial post in next year's elections.
Relatives of the rival politician, plus journalists and lawyers, were among those abducted and shot dead in the Maguindanao massacre.
President Gloria Arroyo's government has vowed to try to stem the violence ahead of the elections, when positions from local councils to the nation's presidency will be contested.
But in a nation where more than one million unlicenced guns flow freely among a population of 92 million, and with local politicians often having reputations for being warlords, more killings are widely expected.