Philippines, Nov 25, 2009 (AFP) - Philippine President Gloria Arroyo faced rising pressure Wednesday to bring to justice a political ally who stands accused of masterminding a massacre that left 46 people dead.
Police said the top suspect in Monday's killings was Andal Ampatuan Jnr, a member of Arroyo's ruling coalition and the son of a powerful regional politician who has helped secure votes for the president in previous elections.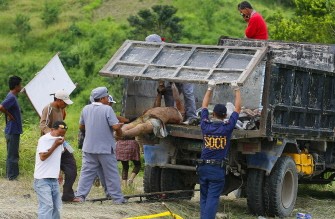 Workers load into a truck dead bodies, victims the massacre on November 24, 2009 (AFP photo)
"According to the initial reports, those who were abducted and murdered at Saniag were initially stopped by a group led by the mayor of Datu Unsay," national police spokesman Chief Superintendent Leonardo Espina said.
Ampatuan Jnr is the mayor of Datu Unsay and his father of the same name is the governor of Maguindanao province, a lawless part of the strife-torn Mindanao island where the massacre took place.
However, two days after the massacre, authorities indicated an arrest of Ampatuan Jnr was not imminent.
Speaking on DZMM radio, Espina said investigators still needed to speak with witnesses before they can secure a court order for the arrest of the suspects.
Nevertheless, he insisted authorities would remain impartial.
"We will not treat anyone above the law," Espina said.
The massacre occurred after about 100 Ampatuan gunmen allegedly abducted a convoy of aides and relatives of a rival Maguindanao politician, Esmael Mangudadatu, plus a group of journalists.
The victims were abducted as they were travelling in a six-vehicle convoy to nominate Mangudadatu as the opposition candidate for governor in next year's elections. He was not in the convoy.
They were shot a short time later at close range, some with their hands tied behind their backs, and dumped or buried in shallow graves on a remote farming road close to a town bearing the Ampatuan name.
The victims included at least 13 local journalists who had been intending to report on Mangudadatu's governorship nomination, making Monday's killings the deadliest single attack on the media in history.
Ampatuan Snr had been grooming his son to take over as governor of Maguindanao province, and the victims' relatives have alleged the Ampatuans organised the murders so that Mangudadatu would not run for governor.
Arroyo on Tuesday declared a state of emergency in Maguindanao and neighbouring Cotabato city, a stronghold of the Ampatuans, amid fears the killings could trigger a clan war.
But instead of ordering tough action against her allies, she sent a special envoy, Jesus Dureza, to the Ampatuan camp on Tuesday get the clan to pledge its cooperation in an investigation.
Asked on national television whether he probed the Ampatuans about their alleged role in the massacre, Dureza said that was not his reason for visiting them.
"My purpose in going there was not really to find out who's at fault. My mission is to get the cooperation of everybody," he told ABS CBN television.
But the ruling coalition's candidate for next year's presidential election, ex-defence secretary Gilberto Teodoro, backed calls for the immediate arrest and prosecution of the suspects.
He said the world was watching to see how the government would deal with the "barbaric act".
"This is a test case. The government should be decisive in going against this group, to arrest the perpetrators no matter who they are, whether they are political allies or not."
The Philippine Commission on Human Rights chairwoman, Leila De Lima, also called for immediate action by the president.
"I am appealing to President Gloria Arroyo to show political will, for her to show to the public that the investigation by the government is serious," she told AFP.