MANILA, Sept 18, 2011 (AFP) - Philippine President Benigno Aquino will mainly discuss anti-corruption and government transparency efforts in a low-key five-day visit to the United States, his spokesman said on Sunday.
Aquino, who departs later Sunday, will join the Open Government Partnership of US President Barack Obama but is not expected to have a meeting with the US leader, said spokesman Edwin Lacierda.
"The trip to the US is primarily an expression of our government's support for open governance," he told reporters.
"In fact, the focal department here is not the Department of Foreign Affairs but the Department of Budget and Management... that's been very, very open about transparency," Lacierda said.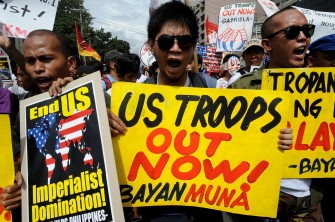 AFP - Protesters shout anti-US slogan during a rally near the US embassy in Manila on September 16, 2011. Protesters are calling for an end to the Visiting Forces Agreement as part of the 20th year commemoration of the closing down of US bases in the country.
Aquino is also expected to attend the World Bank and International Monetary Fund conferences during his visit to New York and Washington DC, his spokesman said.
Aquino won a landslide victory in elections last year by campaigning on a strong anti-corruption platform, aimed mainly at his predecessor, then-president Gloria Arroyo who has been dogged by numerous graft scandals.
As president, Aquino, the son of revered democracy icon and late president Corazon Aquino, has repeatedly stressed that his government will not put up with corruption and has pursued graft cases against Arroyo.
In contrast to his recent trip to China, where the president came with economic goals and a huge business delegation, Lacierda said Aquino was only bringing a "small delegation" to the United States.
He declined to say if Aquino would be bringing back any investments or trade accords.
The United States is the main defence and trading ally of the Philippines, a former US colony.
In recent months, the Philippines has been relying more on US influence to temper alleged Chinese aggression in the South China Sea, where the Philippines and China have territorial disputes.