PROSPERIDAD, Philippines (AFP) – Tribal gunmen in the southern Philippines on Sunday released 47 hostages they had been holding for three days, after authorities agreed not to arrest them and animals were sacrificed.
The ending to the ordeal was a rare piece of good news for the lawless south, following a political massacre last month that left 57 people dead and the beheading of a man last week in an unrelated abduction.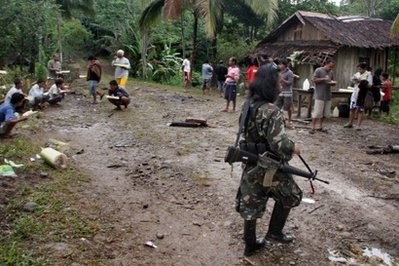 One of the tribal gunmen watches as hostages eat their breakfast at their mountain lair in the town of Prosperidad, Mindanao on December 12 (AFP photo)
The vice governor of Agusan del Sur, where the mass kidnapping took place, told reporters that government negotiators had signed a deal not to arrest the kidnappers, a key factor in ending the stand-off.
"Yes at last! Yahoo!," vice governor Santiago Cane said in a mobile phone text message to the media after he picked up the hostages from the gunmen's hideout in a cleared patch of jungle on a mountaintop.
The hostages, aged 17 to 62, were driven down the mountain in an army truck to a hospital in Prosperidad, the provincial capital, looking weary.
"Thank you very much, thank you very much," one of the hostages said in front of reporters before military escorts took him and others away for medical check-ups and a debriefing.
Cane and other government officials had earlier Sunday met kidnap leader Ondo Perez in a restaurant to broker a deal after the hostages had spent three nights sleeping outside at the gunmen's lair.
In a more bizarre effort to placate the kidnappers, negotiators also Sunday brought in tribal leaders to sacrifice animals as part of a ritual demanded by Perez in overnight talks.
One black pig and three chickens were slaughtered, while 10 boiled eggs and 10 bottles of local wine were offered to the gods.
After the ceremony, Cane took Perez to a local restaurant where he met in private with Governor Valentina Plaza and the deal was struck to give the kidnappers immunity from police action.
"All members of (the government) crisis committee signed a document in front of Perez where they stated that all members of the group won't be arrested or detained," Cane said.
Instead, the issue will be referred to elders of Perez's Manobo tribe for settlement -- which is allowed under local laws governing indigenous groups in the Philippines.
Perez and his band of 13 gunmen, former communist guerrillas and members of the mountain-dwelling Manobo tribe, raided a school in a small farming village in Mindanao's Agusan valley region on Thursday, taking 75 hostages.
Twenty-eight hostages, including 18 children, were later freed and Perez had said the rest would follow on Sunday. But this was delayed by negotiations over his various demands.
The kidnapping appeared to have been driven by a feud between rival families within the Manobo tribe.
Perez had demanded that Calpito Icuag, a senior member of the rival family, have his bodyguards disarmed. He also demanded the arrest of another clan member, Joel Tubay.
The governor had assured him that Icuag's bodyguards had already turned over their guns to the military, and that a special task force was hunting Tubay, a government spokesman said.
Tubay, who has an outstanding arrest warrant for murder, remained in hiding and had refused to turn himself in.
In addition, Perez wanted murder charges against him dropped.
It was not immediately clear if those charges had been dropped as part of the deal that set the hostages free.
The southern Philippines' Mindanao region -- where Muslim and communist insurgents mix with warring clans, pirates and corrupt officials -- is infamous for its lawless nature.
But the recent explosion of violence in Mindanao has shocked the country.
President Gloria Arroyo lifted martial law over Maguindanao, another province in the region, on Saturday after eight days of emergency rule triggered by the massacre last month of 57 people.
The massacre was allegedly carried out by the heads of a Muslim clan that had ruled the area since 2001.
Meanwhile, Al Qaeda-linked militants on the island of Basilan are still holding three hostages after beheading another captive on Wednesday.