Waves caused by Typhoon Mitag capsized two small passenger ferries in the Philippines overnight, killing at least three people and raising the overall death toll to 22, rescuers said Wednesday.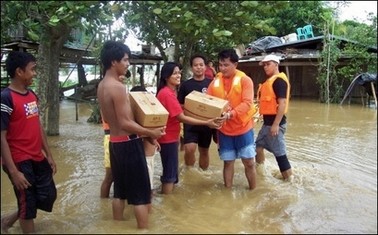 Residents of flooded Tumauini town receive relief goods from a provincial rescue team 26 November 2007(Photo: AFP)
The ferries were crossing Taal Lake south of the capital Manila when strong winds brought about by the typhoon triggered huge waves, rescuers said.

Three people were confirmed drowned, while about 30 others were rescued. Six others remain missing.

The Office of Civil Defense said 19 others were killed by landslides, flashfloods and other storm-related accidents in seven northern provinces that bore the brunt of the storm.

Meanwhile giant waves simultaneously swamped 19 villages in Jolo island, Zamboanga city and Misamis Oriental in the southern Philippines and in the northern provinces of La Union and Pangasinan, it said.

Nearly 200 houses made of light materials were washed away while more than 2,000 people were evacuated in Zamboanga, it said.

All ferry services between Zamboanga and Jolo were cancelled as environment and disaster officials rushed emergency and relief assistance.

National Defense Secretary Gilberto Teodoro said government scientists were trying to determine the cause of the huge waves, which struck day after a 6.0-magnitude earthquake shook the main island of Luzon.

Search and rescue operations were continuing for two air force pilots whose plane was believed to have crashed in the South China Sea on Monday while searching for a missing fishing vessel with 27 people aboard.

The fishermen have not been found.

As of Wednesday morning, Mitag was moving east-southeast of the Batanes group of islands in the northern tip of the Philippines, the weather bureau said.

While the storm has considerably slowed down, it has continued to blanket northern provinces with rains.

The weather bureau said Mitag had merged with tropical storm Hagibis, which passed over the country last week killing 13 people but reversed course Tuesday.

Over half a million people were affected by the storms in some 18 provinces, the civil defense office said.

It was not clear how many remained in evacuation camps Wednesday, but the agency said there was a "significant decrease" in the number.

Rescuers were also struggling to bring back vital lifelines to storm-ravaged provinces, some of which remain without power and only have intermittent telecommunication services.