MANILA, Sept 30, 2009 (AFP) - Philippine flood survivors were warned Wednesday to brace for another potentially deadly storm, as the number of people affected by the heaviest rains in decades soared past 2.2 million.
Four days after tropical storm Ketsana ravaged Manila and neighbouring areas, parts of the nation's capital remained submerged in murky water, while people crowding into shelters were desperate for food, water and other aid.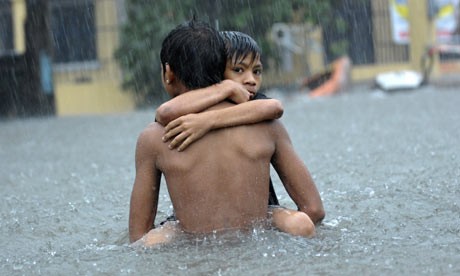 A Filipino boy is carried to safety through floodwater in Manila on Sep. 27 (AFP photo)
The storm killed at least 246 people, although the number is expected to rise higher than the official toll as many people remain missing.
Amid the chaos of the relief operation, authorities warned that another storm lurking to the east of the Philippines could slam into the country on Thursday or Friday.
"We still don't know how big this typhoon will be, but the best way for us is to prepare for the worst case scenario," said the secretary general of the Philippine Red Cross, Gwendolyn Pang.
"Our message to the public is to really get out of the way of the typhoon. Our lives are important."
Pang said those still in their flood-ruined homes should evacuate to government-run shelters.
"We are advising them to go to higher ground, stay with relatives or go to the nearest evacuation centre. Those who are in the centres, remain there," she told AFP.
Meanwhile, anger and hunger among the flood survivors continued to build, with the government appealing for calm after people blocked food convoys, apparently because they were missing out on the relief.
"We are receiving reports that some relief goods, especially those from private donors, are being blocked by people or are being pelted," Defence Secretary Gilberto Teodoro said on national radio.
While appealing for calm, he warned that anyone caught blocking food convoys would be arrested.
"We understand many are hungry. All of us are working to feed you, and help those in need," Teodoro said.
"(But) we will not allow this thing to happen, even in a crisis."
Private individuals and companies who want to donate relief goods were advised to coordinate with the national government, while police have been asked to provide additional security escorts to delivery trucks, he said.
In its latest update on Wednesday morning, the National Disaster Coordinating Council said 2.25 million people had been affected by the floods, up about 300,000 from the previous day.
Of the total affected, 389,616 people were crammed into 561 evacuation camps around the capital Manila and its eastern regions.
Another 346,581 people were staying with their relatives or friends, the council said.
The death toll remained the same as Tuesday at 246, but 42 people remain officially missing and there may be others who have not been reported to authorities yet.
Ketsana dumped the heaviest rain in more than 40 years on Manila and its neighbouring areas on Saturday, submerging 80 percent of the nation's capital.
Damage to infrastructure has been heavy, with government admitting it would likely set back economic growth this year. Hospitals were destroyed, and impoverished communities along riverbanks erased.
International aid has started to trickle in after the Philippines issued an appeal for aid, but the amount of work has simply overwhelmed aid workers and rescuers who themselves have been flood victims, Pang said.
"Rehabilitation and relief has been slow," Pang said. "We have been overwhelmed, caught by surprise."
"Another challenge is the logistics and trying to get the goods to the area," Pang said, stressing that many areas were only reached days after the disaster struck.
At the Jose 'Amang' Rodriguez Hospital in eastern Manila, doctors said operations went back to something like normal only two days after the storm.
Medical equipment and medicines were rendered useless by the deluge that swamped the hospital's first floor, and about 200 patients were hastily transferred to the second level.
"We're still in the clean-up process but we are already providing outpatient and emergency services, including emergency surgery," Dr Joanna Remo told AFP at the hospital's crowded emergency ward.