Philippine prosecutors on Tuesday filed 25 counts of murder against a clan leader's son whom they say led the election-related massacre of 57 people last week, officials said.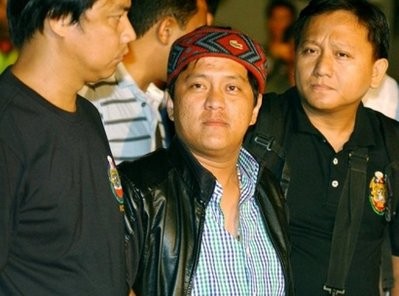 Ampatuan Mayor Andal Ampatuan Jr. (C) is escorted by National Bureau of Investigation agents after arriving at the Villamor Airbase in Manila
The charges against Andal Ampatuan Jnr were filed in a court in the southern city of Cotabato, which has jurisdiction over the site of the November 23 massacre, said prosecutor Edilberto Jamora.
Other members of the influential Ampatuan clan, including the family patriarch, provincial governor Andal Ampatuan Snr, were also summoned to submit affidavits in the investigation into the massacre in Maguindanao province.
Ampatuan Jnr had previously faced seven counts of murder for the massacre. Jamora said he was only being charged with 25 murders so far because authorities had only processed 25 death certificates.
Alleged armed followers of the Ampatuans murdered 57 people including the wife and two sisters of his bitter rival, Esmael Mangudadatu. Also among those killed were journalists, lawyers and other civilians.
Prosecutors said Ampatuan Jnr led the killings to prevent Mangudadatu from challenging him in the May 2010 race for governor of the province.
The killing has outraged the nation and embarrassed Philippine President Gloria Arroyo, who has longstanding ties with the Ampatuans.
The Ampatuans control many local positions in the southern province of Maguindanao and have hundreds of armed followers there.