The Philippine government said Monday it could not cope with the massive flooding that displaced nearly half a million people, amid fears the death toll could soar past the official tally of 86.
Reaching people still stranded after Saturday's flooding in the national capital, Manila, and surrounding areas, the threat of disease outbreaks and providing survivors with aid were among the top concerns, authorities said.
"We are concentrating on massive relief operations. (But) the system is overwhelmed, local government units are overwhelmed," the head of the National Disaster Coordinating Council, Anthony Golez, told reporters.
"We were used to helping one city, one or two provinces but now, they were following one after another. Our assets and people are spread too thinly."
Defence Secretary Gilberto Teodoro said the official death toll stood at 86, with another 32 people missing. He said more than 435,000 people had been displaced.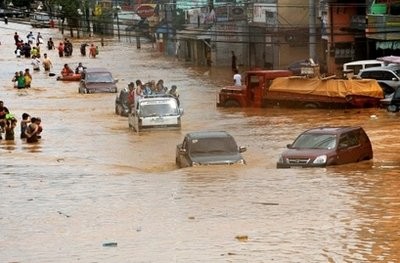 Motorists cross a flooded road in Marikina, east of Manila a day after tropical storm Ketsana lashed the area around the capital city.
However, radio station DZBB quoted local officials as saying that 58 more bodies had been recovered from a flooded area in the Manila suburb of Marikina, and that they had not yet been included in the official tally.
Teodoro, who is heading the government's rescue operation, said the government was looking into those reports.
"This has not been reported to us so we still cannot confirm this. We are going to call the (local) official so we can confirm this," he said.
The chief of a riverside village in Quezon city, part of Metro Manila, also told AFP that 29 bodies had been recovered and 108 people remained missing from his community.
Armando Endaya, captain of Bagong Silangan village, said he had not reported these deaths to national government officials, as they had not yet contacted him.
"Since yesterday, 29 bodies have been found," Endaya told AFP from a makeshift evacuation camp in the village.
"Another 108 people are still missing."
The government's official website showed just one death had been reported in Marikina and two in Quezon city.
Saturday's disaster saw tropical storm Ketsana drop the heaviest rain in more than 40 years on Manila and neighbouring areas of Luzon island.
President Gloria Arroyo said more rain fell on Manila and the surrounding areas than on New Orleans when Hurricane Katrina devastated the American city in 2005.
The nine-hour deluge left some areas of Metro Manila, a sprawling city of 12 million people, under six metres (20 feet) of water.
Initial frantic rescue efforts saw military helicopters and rubber boats fan out across the city of 12 million to pluck people off houses and car roofs.
The government said more than 7,900 people had been rescued.