Philippine authorities Sunday scrambled to restore power and repair damage after Typhoon Mirinae smashed into the storm-weary nation, killing at least 12 people.
A day after Mirinae brought heavy rains and winds, crews were clearing roads of fallen trees and power lines in capital Manila and nearby areas.
Efforts were being made to repair four bridges that collapsed in urban areas south of Manila, while power was slowly being restored to most of the 22 towns that were blacked out at the height of the typhoon, the Red Cross said.
"We have been told that power in most areas has been restored and in terms of flooding, the waters receded within hours," national Red Cross secretary general Gwen Pang told AFP.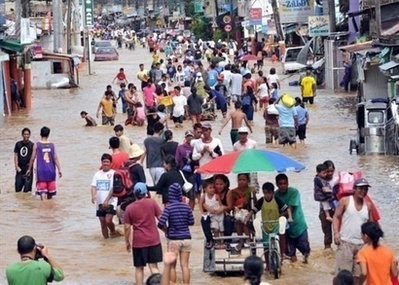 Residents wade through a flooded street caused by flash floods brought about by Typhoon Mirinae in the town of Santa Cruz, south of Manila.
She said a pre-emptive evacuation that saw the transfer of about 115,000 people in the typhoon's direct path to safer ground days ahead of its landfall had meant fewer casualties compared with two recent deadly storms.
As of about 6:00 am Sunday (2200 GMT Saturday), Mirinae had weakened and was located 450 kilometres (279 miles) southwest of Manila in the South China Sea, the weather bureau said.
Manila's National Disaster Coordinating Council and provincial authorities said 12 people died as a direct result of Mirinae.
Tropical Storm Ketsana, which caused massive flooding on September 26, and Typhoon Parma, which hit a week later, together killed more than 1,100 people.
"People were more prepared and more or less knew what to do," Pang said. "People did not wait until it was too late to evacuate and were quickly moved away from harm's way to safer ground."
She said most of the more than 5,000 people who had moved into temporary shelters as typhoon Mirinae lashed the main island of Luzon had begun trickling back to their homes as the weather cleared Sunday.
However, relief and rehabilitation efforts will continue for the 87,000 people still packed into evacuation centres whose homes were destroyed by Ketsana and Parma, she said.
Even before Mirinae hit, outlying districts that are home to more than a million people were expected to remain flooded into the New Year, raising concern among health experts of an outbreak of deadly disease.
"We are moving into the early recovery stage, looking at shelter requirements as well as the medical concerns of these people," Pang said.
A spokesman for President Gloria Arroyo, Cerge Remonde, said the government was grateful that Mirinae had left the country as quickly as it came.
"We thank our people for cooperating and by being more disaster conscious," Remonde told AFP. "Let us be henceforth more aggressive in disaster preparedness."
While the Philippines is used to an average of 20 typhoons a year, the recent deadly storms had tested its disaster response plans to the limit, forcing it to seek international help.
The storms also exposed the government's poor urban planning that has allowed sprawling shanty towns to rise beside floodways and riverbanks.