MANILA, June 17, 2011 (AFP) - The Philippines said Friday it would send its ageing navy flagship into disputed South China Sea waters amid rising tensions with Beijing over their competing claims.
However defence department spokesman Eduardo Batac insisted the deployment was a routine assignment and had nothing to do with an announcement by China on Thursday that one of its maritime patrol vessels would pass through the area.
"I don't think these are connected," Batac told reporters.
"The navy conducts regular offshore patrols and we should not connect the deployment of Rajah Humabon to the deployment of this maritime vessel of China."
Batac said he was unaware if the Chinese vessel had reached waters claimed by both countries.
He also did not say when the Philippine vessel would be dispatched or exactly where it would go.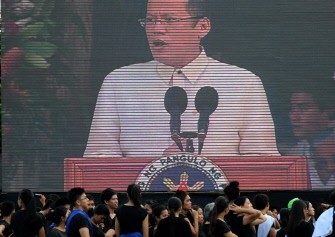 AFP - Student performers watch at the projector as Philippine President Benigno Aquino delivers his speech during the celebration of the 113th anniversary of the proclamation of Philippine Independence at the Quirino Grand stand in Manila on June 12, 2011.
The Rajah Humabon, a former US Navy frigate that served during World War II, is one of the world's oldest warships. It began service in the cash-strapped Philippine Navy in 1980.
Meanwhile, Philippine Foreign Affairs Secretary Albert del Rosario met with envoys of ASEAN member nations on Friday, calling on them to "take a common position" on the matter.
In the meeting with ambassadors of the Association of Southeast Asian Nations, del Rosario said there should be "common approaches in addressing worrisome developments" in the South China Sea.
The Philippines has competing claims with China, Taiwan, Vietnam, Malaysia and Brunei over potentially resource-rich areas in the South China Sea.
Brunei, Malaysia, the Philippines and Vietnam are also members of ASEAN along with Cambodia, Indonesia, Laos, Myanmar, Singapore and Thailand.
Tensions in the long-running dispute over the area have flared in recent months amid allegations by the Philippines and Vietnam that China has become increasingly aggressive in staking its territorial claims.
The Philippines accused China this month of sending naval vessels to intimidate rival claimants around the Spratly Islands in the South China Sea.
The Philippines also accused China of installing posts and a buoy in nearby areas, opening fire on Filipino fishermen and intimidating a Philippine oil exploration ship with a patrol vessel.
China has maintained throughout the flare-up that its has sole sovereignty over the waters, but that it intends to resolve the dispute peacefully.
Nevertheless, Chinese state media reported on Friday that China had recently staged three days of military exercises in the South China Sea and plans to boost its offshore maritime patrol force.
Del Rosario said the recent incidents showed the need for "collaboration and solidarity (on)... a recurring and an exacerbating problem."