The Philippines said Sunday that leaders of a clan detained after martial law was imposed in their southern stronghold would be charged with rebellion, as more buried weapons were found.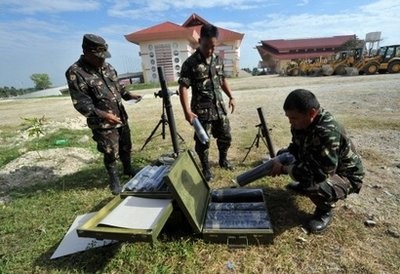 Philippine soldiers set up mortar positions next to the provincial government building in Sharif Aguak, the capital of Maguindanao province. (AFP Photo)
The rebellion charges are separate to murder cases being prepared against them over last month's election-linked massacre of 57 people in their home province of Maguindanao, Justice Secretary Agnes Devanadera said.
"We did not see them plotting against the government, we saw the deed done. They have usurped power from the government there," Devanadera told DZBB radio.
"This is not ordinary chaos taking place in one area, this has an armed component. And there is removal of allegiance from the republic of the Philippines by the leaders of this group."
President Gloria Arroyo imposed martial law in Maguindanao late on Friday in an effort to rein in the Ampatuan family, a Muslim clan that has ruled the province for most of this decade with the backing of private armies.
The clan patriarch, Andal Ampatuan Snr, governor of Maguindanao since 2001, had installed many of his relatives into senior provincial posts.
Explaining the martial law move, the government said large numbers of heavily armed gunmen loyal to the Ampatuans had threatened to attack security forces and civilians if the clan chiefs were taken into custody.
Ampatuan Snr and other clan members are accused of being involved in the November 23 massacre of a rival politician's relatives, as well as journalists and other civilians.
One of Ampatuan's sons, Andal Ampatuan Jnr, has already been charged with 25 counts of murder over the massacre. Police last week filed indictments recommending the clan chief and other relatives also be charged.
Police allege Ampatuan Jnr and 100 gunmen shot dead the occupants of a convoy that included female relatives of his rival for the post of governor in next year's elections, as well as about 30 journalists.
After martial law was imposed, thousands of soldiers and police poured into the provincial capital Shariff Aguak and other Maguindanao towns to bring the Ampatuans into custody, as well as their militiamen and weapons.
Ampatuan Snr was among five clan members detained on Saturday.
A total of 32 people were picked up during Saturday's raids, including 20 militiamen found in a warehouse belonging to Ampatuan Jnr.
Related article: Farmers flee over fears of violence The government alleged the Ampatuans had illegally amassed a stunning array of military hardware that it was prepared to use in the rebellion, and raids on Sunday continued to uncover hidden weapons.
About 40 firearms, including M16 assault rifles, were found on a property believed to be owned by Ampatuan Snr, military spokesman Lieutenant Colonel Michael Samson told AFP at the site.
The weapons were buried on a grassy area about a kilometre (half a mile) from a police station on the outskirts of Shariff Aguak.
On Saturday, security forces retrieved 340,000 rounds of ammunition, several assault rifles and a home-made armoured car at the warehouse owned by Ampatuan Jnr where the miltiamen were detained.
The biggest reported discovery came on Thursday when the military found what it said were enough weapons and ammunitions to arm two battalions, or 1,000 soldiers, buried in a vacant lot near the Ampatuans' compound of homes.
Muslim rebels fighting for an independent homeland have been waging a rebellion on Maguindanao and other parts of Mindanao island since the late 1970s. The conflict has claimed more than 150,000 lives, the military says.
Arroyo's government has used Muslim clans such as the Ampatuans to rule these areas, and allowed them to build up their own armies as part of a controversial containment strategy against the insurgents.
However the government now insists it did not know the extent to which the Ampatuans had built up its own militia and weapons.
Andal Ampatuan Snr and Jnr, plus another senior clan member, were expelled from Arroyo's ruling coalition a few days after the massacre.