The Lao Permanent Representative to ASEAN handed over the chairmanship of the Committee of Permanent Representatives to ASEAN (CPR) next year to his Philippine counterpart at a ceremony in Jakarta on December 1.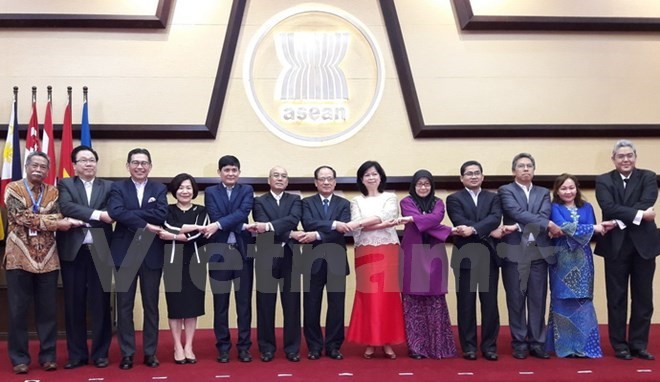 Members of the Committee of Permanent Representatives to ASEAN (Photo: VNA)
Under Laos' chair, the CPR has organised nearly 300 meetings focusing on the realisation of the ASEAN Community Vision 2025. As such, notable outcomes have been recorded, including the completion of the Master Plan on ASEAN Connectivity 2025 (MPAC 2025) and of a working plan designed for the third phase of the Framework Agreement on the ASEAN Investment Area (AIA), the last two in the set of documents for ASEAN 2025.
The committee has also optimised the potential of the cooperation mechanism between ASEAN and ambassadors to ASEAN from the bloc's official partner countries.
Currently, 9 out of 10 ASEAN dialogue partners have assigned commissioners to the association. In 2016, the CPR set up a liaison mechanism among East Asian ambassadors in ASEAN region to better implement agreements and decisions of their high-ranking leaders.
In her speech at the ceremony, Ambassador Buensuceso of the Philippines vowed to sustain the gains achieved by previous CPR chairs to lead the committee to realise further goals.
She also pointed to six priorities set for the Philippine chairmanship in 2017 under the theme of "Partnering for Change, Engaging the World", which focus on security, marine cooperation and disaster resilience, among others.
In 2017, ASEAN will celebrate its 50th founding anniversary and other anniversaries of dialogue relations with the US, Canada, EU, India and ASEAN Plus Three.
Witnessing the ceremony, Secretary-General of ASEAN Le Luong Minh hailed the CPR's outcomes gained under the Laos' chairmanship and urged the new chair to continue consolidating solidarity in the community and boosting international partnerships.-