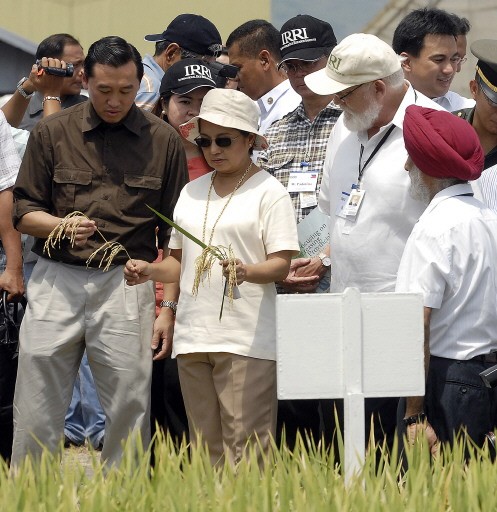 Philippine President Gloria Arroyo (C) examines rice grains being grown at International Rice Research Institute in Los Banos Laguna, south of Manila on May 2, 2008. The Philippines on May 2 signed an agreement with IRRI to help it grow enough rice to feed its own people within three years(AFP Photo)
The Philippine agriculture secretary Friday urged open international rice trading amid soaring prices after Thailand's premier said an Asian export cartel was to be formed to fix the grain's cost.
Arthur Yap said it was still too early to tell if the cartel would actually be created, but urged rice producers to boost trade flows. The Philippines is one of the world's largest importers of the grain.
"It is difficult to speculate on an Asian rice cartel when there is nothing firm formally announcing its creation. Vietnam has not formally announced its inclusion in this formation," Yap told reporters.
But he said exporters should "use this opportunity to group together and consolidate production volumes to ensure greater trade and inventory flows into the world."
Rice exporters should ensure that gains made against poverty and hunger over the last few years are not lost to "reduced inventories, spiralling prices and speculation."
Thailand's Prime Minister Samak Sundaravej said Wednesday that his country had agreed in principle to form a rice price-fixing cartel with Myanmar, Laos, Vietnam and Cambodia as costs of the staple grain rocket.
The grouping of Mekong nations would be similar to the oil cartel OPEC, and would be called the Organisation of Rice Exporting Countries (OREC).
Manila has said it was prepared to import up to 2.7 million tonnes of rice this year to fill a 10 percent gap between production and local demand and to build up inventories.
The World Bank said last month that a doubling of food prices over the past three years could push 100 million people in poorer developing countries further into poverty.
Soaring food prices have already triggered protests in a number of countries around the world. Some nations have restricted rice exports to try and curb rising domestic prices.