MANILA, Nov 25, 2011 (AFP) - The Philippine government on Friday asked a court to order ex-president Gloria Arroyo, who has been charged with vote rigging, to be moved out of hospital and into a police detention facility.
Arroyo, 64, faces life in prison if convicted of charges of conspiring with a warlord to rig senatorial elections, and she faces years in legal limbo as her case works its way through the Philippines' slow justice system.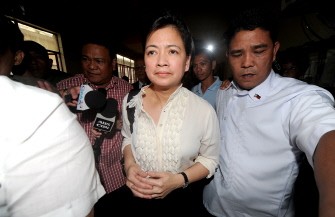 AFP - Juliet Cervantes (C), attending physician of former Philippine president and congresswoman Gloria Arroyo, leaves the Pasay City Regional Trial Court in Manila on November 25, 2011.
Arroyo is now under police guard at a Manila hospital where she is seeking treatment for what her lawyers say is a rare bone disease.
Government lawyer Maria Juana Valleza asked the lower court handling the vote rigging case to order Arroyo's transfer to a detention facility at a Manila police station, arguing she was well enough to leave hospital.
"We moved that she be transferred to a detention facility," Valleza, lawyer for the government election commission, told AFP after a court hearing.
She said a special private room at a police station had already been prepared.
"She will be staying there in a room without the company of other prisoners. The size is quite adequate for her personal and medical needs," Valleza said.
The court is to consider the motion at a hearing on Tuesday, and a ruling is expected early next month, clerk of court Joel Pelicano said.
Arroyo's lawyers meanwhile, asked the court to allow her to go home and be placed under house arrest, but Valleza said the government was against this.
"We have no control over her house and we cannot monitor her constantly. The house is not under jurisdiction of the courts," she added.
Court cases take an average six years to be completed in the Philippines. So if the court rules Arroyo be detained at a police station while she is on trial, she faces years behind bars before a verdict is even reached.
Arroyo, who ruled the country for nearly a decade until last year, was arrested at the hospital on Friday after she was charged with cheating to ensure one of her allies won the final seat in 2007 senatorial elections.
Her successor, Benigno Aquino, has vowed to have her charged for a wide range of other corrupt acts she allegedly committed while in power.
Arroyo has denied all the allegations of wrongdoing and her lawyers have asked the Supreme Court to throw out the vote rigging charges.