ALPHA, Illinois, Aug 17, 2011 (AFP) - In a phony war fought across empty plains and crowded airwaves, US President Barack Obama and the Republicans who want his job have sketched the thematic battle lines of the 2012 election.
Many twists will shape the race and no one will remember the last three days when America elects its next president in November 2012.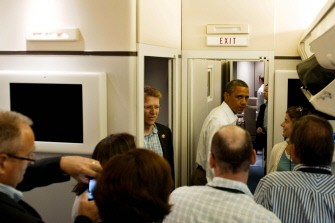 AFP - US President Barack Obama departs after speaking with reporters on board Air Force One Peoria, Illinois, August 17, 2011
But in an explosive late summer flurry, Obama and leading Republicans Mitt Romney and Rick Perry tested attack lines, revealed their strengths, tried to hide their liabilities and made an early pitch for wavering voters.
Fifteen months from election day, a storyline is emerging.
Obama may rack up a billion dollar campaign fund and be a deft performer on the stump, but he badly needs an economic resurgence and a tactical win over Republicans to energize the rationale behind his bid for a second term.
Republican contenders meanwhile face a slugfest, and the last one standing will need to prove a nominating contest fueled by pure conservatism will not alienate centrist voters.
Obama, waving from an armored Secret Service bus, rolled into the fray for the first time for real this week, though the White House rejected claims the jaunt through Minnesota, Iowa and Illinois was a taxpayer-funded junket.
After seeing his authority splintered by Republicans in a debt showdown, Obama appeared to draw new energy outside Washington.
Popping into coffee shops, licking ice creams and halting for wholesome heartland photo-ops, Obama came about as close as any president in a security bubble can get to life as everyone else lives it.
However, the trip, which contained few new initiatives, also underscored Obama's struggles with a slowed recovery, collapsed consumer confidence, a moribund housing market and unemployment of 9.1 percent.
The president blamed his predecessor George W. Bush for leaving him a mess and argued the bounce-back was derailed by Japan's tsunami and the Arab Spring,
"We have been fighting our way back," Obama said in rural Illinois.
"The economy is now growing again, over the last 17 months we have created over two million jobs in the private sector."
Yet questions from largely trusting crowds at open air meetings fringed by ripening corn showed that many people are yet to feel the recovery.
That may partly explain a Gallup poll Wednesday showing that only 26 percent of Americans now have confidence in Obama on the economy -- a new low.
The tour also allowed Obama to set the stage for a fight over his new jobs and deficit plan in September and to warn Republicans they will pay at the ballot box if they block it.
But until growth and jobs come back, he will be vulnerable to attack.
"He has not got the job done. And he's hoping that by three days on a bus, he can make up for hundreds of days of failure," Republican frontrunner Romney charged on WLS 980 Radio in Chicago on Wednesday.
After months of slumber, the Republican nominating derby is speeding up too.
Texas Governor Rick Perry declared his candidacy Saturday and wasted no time in proving that he was an authentic conservative and an incendiary campaigner, and shadowed Obama for a time with his own bus tour through rural Iowa.
He took aim at Federal Reserve chairman Ben Bernanke, saying any new attempts to print money to prime the economy would be almost "treasonous."
That kind of talk might delight the Tea Party, over which he will duel with Iowa pace setter Michele Bachmann, but it could also send chills through general election moderates.
Obama and the Republicans also sparred over the very role of government, a theme likely to underpin the election.
Romney meanwhile tried to stay well above the Republican fray, posing almost as a putative nominee, revealing a witty line in campaign mockery, branding Obama's trip as a "Magical Misery Tour."
He also previewed the Republican general election attack.
"Frankly, he doesn't know what to do," said Romney, seeking to portray the president as flotsam in the economic maelstrom, and to stress his own pedigree as a job creator.
"He doesn't understand how jobs come and go. And, he's looking for help. And the right answer is for him to step aside and let somebody help guide the nation that understands how this economy works."
Romney's profile as a millionaire businessman could haunt him though. He declared last week that "corporations are people" -- bolstering a Democratic conceit that he is a shill for the rich and powerful.
Privately, Obama's aides took heart from the Republican sparring, believing voters will perceive a favorable contrast between the president and his foes.