MARSEILLE, May 6, 2009 (AFP) - Star French couturier Pierre Cardin, aged 86, is to be released from a hospital in this Mediterranean city after a 48-hour stay caused by high blood pressure, a source close to the designer said Wednesday.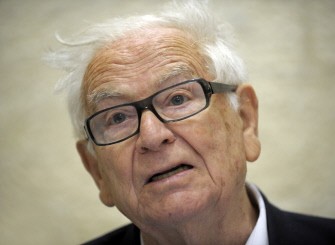 A picture taken on April 15, 2009 in Lacoste, France shows Pierre Cardin (AFP photo)
Cardin, who fell and broke a shoulder-blade last week, was flown by helicopter to Marseille on Tuesday from the southern village of Lacoste, where he each year organises a music and theatre festival in a castle he is restoring that was once owned by the Marquis de Sade.
"He has had a thorough check-up and is being kept for observation until he leaves tomorrow," the source who declined to be named told AFP.
Emergency services said he had suffered a malaise but the source said "his blood pressure rose ... he was totally lucid."
Cardin last week was also briefly hospitalised for a fracture of his shoulder-blade after falling on stairs.