VATICAN CITY (AFP) – Thousands of pilgrims swarmed into central Rome on Saturday amid tight security measures, on the eve of a grand ceremony to mark late pope John Paul II's final step towards sainthood.
"I couldn't miss this, I had to be a part of such a historic moment. We've only just arrived but the atmosphere's great, it's really exciting," said Patricia Wocial, 48, who had come from Britain with her young daughters.
"It's their first pilgrimage and will certainly be an experience to remember," she added as they stood among the crowds, gazing up at a vast poster of John Paul II hanging from the stone columns outside the Vatican.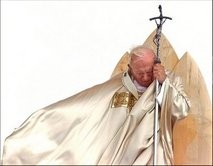 AFP/File – The late pope John Paul II is seen in 1999.
The weekend of prayer, which experts say could help the Vatican burnish an image badly tarnished by paedophile priest scandals, will kick off later on Saturday with a vigil in the ancient Roman arena Circus Maximus.
Some 500,000 pilgrims are expected to descend on the Italian capital for Sunday's beatification, which will confer the status of "blessed" on the pope, who died in 2005 after a tumultuous pontificate lasting nearly 27 years.
In preparation, the late pope's coffin has been brought out of its resting place in a crypt under Saint Peter's basilica, and a phial of John Paul's blood, drawn from him during his illness, has been prepared as a relic for veneration.
At least 100,000 people are expected to attend the vigil starting at 1800 GMT on Saturday evening to hear those who were close to John Paul II speak.
Among the speakers will be Marie Simon-Pierre, the French nun whose miraculous healing from Parkinson's disease is the official justification for John Paul II's beatification after years of research by the Vatican.
While some pilgrims will then head off to bed before Sunday's beatification mass starting at 0800 GMT, others will take advantage of several churches in central Rome which are staying open all night to pray to the late pope.
"We're planning to camp out at the vigil until midnight, then go from church to church to pray, before heading to the Vatican around 4:00 am (0200 GMT) to soak up the atmosphere and get the best seats possible," Wocial said.
Peddlers could be seen hawking souvenirs including watches with the pope's face and baseball hats and T-shirts reading "I Love JPII".
Not all visitors to Rome have come for the ceremony -- "I didn't even know it was happening, just look at the crowds" muttered one disgruntled American.
The Vatican fast-tracked the beatification period after mourners at John Paul II's funeral clamoured for him to be made a saint, drowning out critics who accused him of having ignored Church ills such as corruption and paedophilia.
After Sunday's beatification mass, which will be led by Pope Benedict in front of Saint Peter's and shown on big screens in the surrounding area, pilgrims will be able to file past John Paul II's coffin in the basilica.
Among the attendees at the mass will be Italian President Giorgio Napolitano, Mexican President Felipe Calderon and Polish President Bronislaw Komorowski -- part of a major Polish delegation for the late Karol Wojtyla.
Zimbabwean President Robert Mugabe, a liberation hero who has been widely condemned for human rights abuses, also landed in Rome on Saturday under a special exemption from a European Union travel ban to attend the ceremony.
The devoted will also be able to go and see a bloodied vest worn by the ex-pontiff when he was shot in an assassination attempt in 1981, which is set to go on show in the Daughter of Charity convent on the outskirts of Rome.
Another miracle is needed before John Paul II can be declared a saint. Some pilgrims who travelled to Rome for the ceremony said they had come not only to show their affection for the late pope but also to ask for his help.
"My mother is ill, I want the pope to heal her. I have him always in my heart," said 25-year-old Kate, who had come from Poland with her local priest, two nuns and 40 friends who all broke into song in Saint Peter's Square.