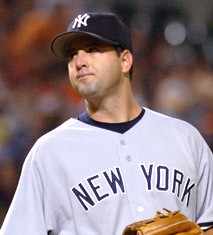 US baseball star Cory Lidle
The flight maneuver attempted by a US baseball star and his flight instructor before they slammed into a New York City high-rise is one most local pilots avoid, The New York Times said Friday.
The crash occurred Wednesday shortly after the Cirrus SR20 attempted a 180 degree turn in the confined space above the river on the east side of Manhattan, a width of 2,000 feet (610 meters), the daily said.
"It's like a box canyon," Ken Nurenburg, a pilot who has flown in the area for 30 years, said of the East River corridor, which is lined with skyscrapers.
"You go in, but you have to turn around to get out. You're not allowed off the river and it's pretty narrow," he told the Times.
Stanley Anderson, the owner of a flight school in the area, said he does not allows customers to fly the route and never attempts the turn himself.
"There's no room for error," he said. "I would never even try to do a 180. No way."
It is not known who was at the controls when the crash occurred, jarring New Yorkers with memories of the September 11 attack on the city's World Trade Center five years ago.
The four-seat aircraft was owned by New York Yankees pitcher Cory Lidle, 34, who obtained his pilot's license only in February.
His companion, 26-year-old flight instructor Tyler Stanger, was a talented pilot from the western United States who had only flown in tricky New York City airspace once before, the Times said.
The two took off from a small airport in nearby New Jersey, circled the Statue of Liberty and then headed up the East River on an accepted flight path before dropping off radar screens.
Current rules allow pilots of light aircraft to use the narrow air corridor up the east side of Manhattan within altitude limits.
But they must either execute a narrow 180 degree turn or seek clearance before entering the crowded airspace of La Guardia Airport northeast of the city.
Investigators from the National Transportation Safety Board said the pair informed air traffic controllers they intended to make the left turn, and veered left into Manhattan at 112 miles (180 kilometers) per hour before slamming into the high-rise apartment.
The cause of the accident has not yet been established.
Source: AFP