The number of pirate attacks across the globe more than doubled in the first half of 2009 because of rampant high-seas raids by Somali pirates, a maritime watchdog said Wednesday.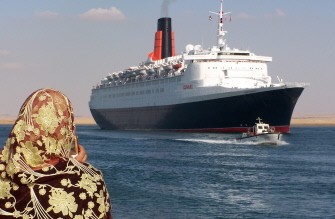 The file photo shows the Queen Elizabeth vessel - one of the targetsof Somali pirates
The International Maritime Bureau's (IMB) Piracy Reporting Centre said incidents of piracy rose to 240 from 114 worldwide in the six months to June, compared with the same period a year ago.
"The rise in overall numbers is due almost entirely to increased Somali pirate activity off the Gulf of Aden and east coast of Somalia, with 86 and 44 incidents reported respectively," it said in a statement.
The Kuala Lumpur-based centre said across the world's seas, a total of 78 vessels were boarded, and 31 vessels were hijacked during the six months. Some 561 crew were taken hostage, six were killed and eight are missing.
"Violence against crew members continues to increase," the watchdog said, adding that attackers were often heavily armed with guns and knives.
The IMB commended the presence of foreign navies in the troubled waters, and said their patrols had forced pirates to seek new hunting grounds, including the southern Red Sea and the east coast of Oman.
Incidents off the east coast of Somalia have decreased in recent months, it said, due to bad weather brought by the monsoon season, which is expected to continue into August.
The world's naval powers have deployed dozens of warships to the lawless waters off Somalia over the past year in a bid to curb attacks on one of the world's busiest maritime trade routes.
Apart from Somalia, the IMB warned that Nigeria remains a "high risk area", with 13 incidents reported in the second quarter of 2009 and at least 24 others that were not directly reported.
In the Malacca Strait, which just a few years ago was the world's piracy hotspot, the number of incidents stood at just two, with no new cases reported in the second quarter of 2009.
Increased patrols are credited with closing down piracy on the strategic Southeast Asian waterway.