DEAD SEA, Jordan, Oct 22, 2011 (AFP) - Libya's interim prime minister Mahmud Jibril warned on Saturday that rebuilding his war-battered country would amount to a "Mission Impossible" task.
"Rebuilding Libya will not be an easy task. It is Mission Impossible of Tom Cruise," Jibril told a World Economic Forum meeting on the shores of the Dead Sea in Jordan, referring to the Hollywood star's movie.

"Stability and order in the country need to be restored and this requires collecting arms in the streets ... which is not an easy question.
"We also need to initiate a reconciliation process. Without these things, we cannot do anything," Jibril added.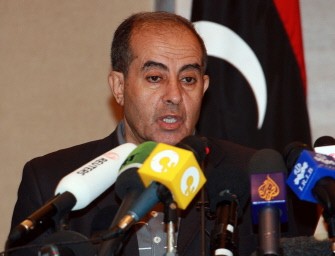 AFP file - Libya's interim prime minister Mahmud Jibril speaks during a press conference in the Libyan capital Tripoli on October 20, 2011.
The top official of the National Transitional Council said he was "relieved" by the death of Libya's strongman Moamer Kadhafi on Thursday.
Libya's new leadership is expected to formally proclaim the country's liberation on Sunday. "The first elections after the liberation of the country should be held within a period of eight months maximum," Jibril said.