Around 150,000 grieving Poles thronged Krakow Sunday as President Lech Kaczynski and his wife were buried beside ancient kings, but Europe's air travel chaos kept many world leaders away.
US President Barack Obama and dozens of other dignitaries failed to come to the elaborate state funeral because of a cloud of volcanic ash covering the region but Russian President Dmitry Medvedev arrived to show solidarity.
Medvedev called for the two nations, at loggerheads for decades, to unite in sorrow after the April 10 plane crash in Russia that killed the couple and 94 others, most of them figures from Poland's military and political elite.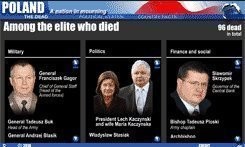 Interactive graphic on the political system in Poland after the plane crash in Russia which killed President Lech Kaczynski and many of the country's political and military elite as well as the central bank governor.
Tearful mourners applauded Kaczynski and his wife Maria, tossed flowers and waved red and white flags as the cortege weaved through the narrow streets of Poland's former royal capital, after their bodies were flown from Warsaw.
Sirens wailed to mark the start of the funeral mass at the Basilica of Our Lady in Krakow's central square. Huge crowds gathered outside the Gothic church to see the service relayed live on giant screens.
The couple's coffins were afterwards borne on military gun carriages to Krakow's Wawel castle, where they were lowered into an amber-coloured sarcophagus in the cathedral crypt alongside Poland's past monarchs, saints and poets.
The Archbishop of Krakow, Stanislaw Dziwisz, thanked the foreign leaders who came to the service and said he hoped the crash would help end tensions between Russia and Poland, its former client state during the communist era.
"The empathy and help that we experienced during these days from our Russian brothers raises hope for rapprochement and reconciliation," he said. "These words I direct to Mister President of Russia."
Kaczynski's Tupolev Tu-154 jet slammed into a forest near Smolensk in western Russia while heading for a ceremony marking the 70th anniversary of the massacre of thousands of Polish officers by Soviet forces in the Katyn forest.
"Tragedies can spark difficult emotions, but often they draw people closer and I think this is necessary between the people of our country and the Poles," Medvedev said in a televised addresss after the funeral.
Kaczynski's nationalist, conservative policies were divisive at home and abroad but his death and those of the others in the crash sparked an outpouring of grief not seen since Polish-born Pope John Paul died in 2005.
"It's an exceptional moment. Poles have to be here," said Maria Kurowska, mayor of the town of Jaslo, who was in the crowd.
Mourners cried out "Thank you" as the coffins were borne past them on their way to Wawel. The couple are buried next to Poland's revered independence leader, Jozef Pilsudski.
But a shadow was cast over the funeral by the eruption of an Icelandic volcano this week that has brought European air travel to a virtual halt.
German Chancellor Angela Merkel, French President Nicolas Sarkozy, Britain's Prince Charles and South Korean Prime Minister Chung Un-Chan were among dozens of dignitaries who cancelled.
The leaders of many countries close to Poland, including the Czech Republic, Estonia, Hungary, Lithuania, Romania, Slovakia and Slovenia, arrived in Krakow by road and rail instead.
Eurosceptic Czech President Vaclav Klaus slammed EU officials for failing to come, saying that "grand phrases about European unity are really nothing but cliches."
Poles lining the streets of Krakow said the foreign no-shows did not detract from the solemnity of the day.
"It looks like a higher power is at work but nothing is keeping us away," said Anna Zajac, 28, who came with her husband and two children from a suburb of Krakow.