Investigators scrambled on Sunday to determine if pilot error was to blame for the fiery crash of a Soviet-era airliner that killed Polish President Lech Kaczynski and 96 others.
The Interfax news agency said Sunday Russian and Polish investigators are working together to analyse evidence from the flight recorders.
"The voice and data recorders are at a special laboratory where, in the presence of Polish officials, including representatives of the Polish state prosecutor... work has begun on analysing them," Interfax quoted a Russian transport ministry spokesman as saying.
Polish radio also reported Sunday the bodies of the president and his wife Maria will arrive in Poland at 1200 GMT from Russia.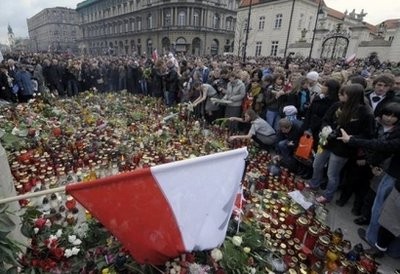 People gather in front of the presidential palace in Warsaw. Investigators scrambled on Sunday to determine if pilot error was to blame for the fiery crash of a Soviet-era airliner that killed Polish President Lech Kaczynski and 96 others
"Military honours will be given in Smolensk to the remains of the president and his wife. Their bodies will be transported in a CASA military aircraft," said a Polish radio correspondent reporting from Russia.
The presidential party was en route to a memorial service for Poles killed in the World War II when its Tupolev Tu-154 airliner crashed in thick fog while approaching Smolensk airport, in the west of Russia.
The disaster sent Poland into shock.
Mourners in Warsaw turned out by the tens of thousands on Saturday to sing the national anthem, wave the red and white Polish flag, and lay a carpet of candles and flowers at the presidential palace and nearby Pilsudski Square.
"It's my heart that told me to come here, I simply had to come," said 45-year-old translator Anna Ciostek, who came to the square with her daughter and mother.Scene: Candles and tears for Poland's tragic president
Polish Prime Minister Donald Tusk and the late president's twin brother, former prime minister Jaroslaw Kaczynski, visited the crash site late on Saturday evening, accompanied by Russian Prime Minister Vladimir Putin.
The remains of all the victims were recovered and transferred to Moscow in two heavy-lift military helicopters for identification, as next of kin began to arrive in the Russian capital.
The death toll in the crash was revised to 96 on Sunday, officials said.
A previous list published on the website of the Russian emergency situations ministry included 97 people, but a new list had one person less.
The Interfax news agency cited emergency officials as saying that the change came after they discovered one woman scheduled to be on the flight had in fact not boarded the plane.
"Everything must be done to establish the reasons for this tragedy in the shortest possible time," said Putin when he arrived in Smolensk, about 75 kilometres (45 miles) from the Belarus border.
Besides the 60-year-old head of state and his wife, the mid-morning crash killed Poland's military chief of staff, other senior officers, its central bank governor, deputy foreign minister and members of parliament.Profile: Kaczynski, from child star to Polish president
"This kind of dramatic tragedy is unheard of in the modern world," Tusk said before heading to the crash site.
He returned early Sunday to Warsaw where the government press office announced that he had cancelled a visit to Washington Monday for a summit on nuclear terrorism as well as a visit to Canada scheduled for next week.
A special cabinet meeting was to be held on Sunday.
Thrust into the forefront as acting president was Bronislaw Komorowski, speaker of the Polish parliament.
"It is rare for so many high ranking representatives of the highest military and spiritual leaders, and the president himself, all to die at the same moment," he told AFP.
"We have to deal with this very difficult problem -- and we will."
The Tu-154 was preparing to land at Smolensk airport in fog when "it clipped the tops of the trees, crashed down and broke into pieces," regional governor Sergei Antufiev told Russia-24 television news network.
While investigators began their work, Lieutenant General Alexander Alyoshin, deputy head of the Russian air force, revealed that the pilots of the ill-fated airliner had repeatedly ignored instructions from air traffic controllers.
Some 1.5 kilometres (one mile) from the airport, air traffic controllers noticed the Tupolev -- overhauled in December 2009, according to manufacturers Aviakor -- was below its appropriate glide path, Alyoshin said.
"The head of the (air traffic control) group ordered the crew to return to horizontal flight, and when the crew did not fulfil the instruction, ordered them several times to land at another airport," he said.
"Nonetheless the crew continued to descend. Unfortunately this ended tragically."
"Jesus, Holy Mary, it's an inconceivable tragedy, an inconceivable disaster," former Polish president and Solidarity leader Lech Walesa told AFP.
The European Union -- which counts Poland as its biggest erstwhile communist member state -- declared Monday a day of mourning, as world leaders took turns expressing shock and condolences.
"Today, there are heavy hearts across America," said US President Barack Obama, remembering "a distinguished statesman... widely admired in the United States as a leader dedicated to advancing freedom and human dignity."
German Chancellor Angela Merkel was "deeply shocked", while French President Nicolas Sarkozy hailed Kaczynski as a man "driven by ardent patriotism, who dedicated his life to his country."Reax: Shock and sorrow at Kaczynski death
Putin told Russian television: "This is first and foremost Poland's tragedy and that of the Polish people -- but this is also our tragedy, and we mourn with you and grieve with you."