Poles voted Sunday in an election forced by the air-crash death of conservative president Lech Kaczynski, in what looks to be a tight race between his bereaved twin and the governing liberals' candidate.
Pitting conservative ex-prime minister Jaroslaw Kaczynski against liberal acting president Bronislaw Komorowski, it marks the latest chapter in a bitter power struggle between the two camps.
Lech Kaczynski perished on April 10 when Poland's presidential jet crashed in Smolensk, western Russia as it landed for a World War II commemoration. A total of 96 people died, among them his wife, senior politicians and military top brass.
Under the constitution, speaker of parliament Komorowski became acting head of state.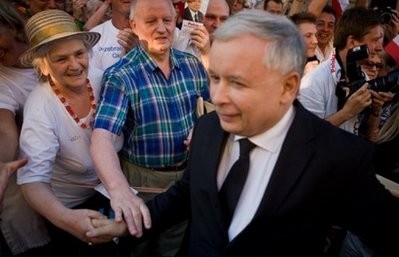 Poles voted Sunday in an election forced by the air-crash death of conservative president Lech Kaczynski, in what looks to be a tight race between his bereaved twin, pictured, and the governing liberals' candidate
Still reeling, Poland was battered in May and June by the worst floods in decades which killed 24 and forced thousands from their homes.
"This election began with a tragedy. I hope it will end with a great success for Poland," Jaroslaw Kaczynski said at a rally before a campaign blackout began at midnight Friday.
Final opinion polls suggested a close call, with floating voters holding the key. Komorowski's support ranged from 45 to 54 percent, and Kaczynski's, 42 to 45 percent.
Lech Kaczynski came from behind to beat liberal Donald Tusk -- now prime minister -- in the 2005 presidential election.
Jaroslaw Kaczynski, head of the conservative, eurosceptic Law and Justice party, was his twin's premier in 2006-2007 but lost a general election to Tusk and Komorowski's Civic Platform.
Thereafter, Law and Justice counted on Lech Kaczynski, who used his presidential veto powers 18 times to block government legislation.
With an eye on their core voters -- older, small-town or rural residents, in contrast with younger, urban liberals -- the twins battled welfare reforms and a new privatisation drive.
Tusk's government underscores that on its watch, Poland was alone in the 27-nation European Union in posting economic growth last year amid the global crisis.
Lech Kaczynski had been expected to seek a second five-year term in an autumn ballot, but tipped to lose to Komorowski, who pledged to build consensus on the fractious political scene.
Since launching his audacious bid to replace his twin, Jaroslaw Kaczynski, 61, has struggled to shake off his divisive reputation.
"You have the choice between a politician who harbours resentment and grudges, and the future, with an optimistic vision of Poland," said Komorowski, 58, at a rally.
Komorowski took 41.5 percent of the vote in a June 20 first round, short of the 50 percent required to win outright. Kaczynski scored 36.5 percent.
Left-wing Social Democrat Grzegorz Napieralski scored an unexpectedly-high 13.7 percent. Seven other candidates all took below two percent.
Both Komorowski and Kaczynski have since courted the left.
Surveys show most of Napieralski's electorate will back Komorowski, drawn by pledges for more equality for men and women in politics and to pull Polish troops out of Afghanistan, but also due to antipathy towards Kaczynski, long known for broadsides against the left.
Kaczynski has pushed a pro-welfare message and even praised a past communist leader as a patriot. The Social Democrats emerged from the communist party after its regime fell in 1989.
Law and Justice and Civic Platform share roots in the anti-regime movement Solidarity, which Kaczynski tapped at a rally.
"Today's choice is between cold neo-liberalism and a Poland based on solidarity, a Poland that is fair," he said.
Sunday's vote is a test before parliamentary polls in late 2011.
It will also be watched closely elsewhere in the EU, which Poland joined in 2004, because the Kaczynskis regularly clashed with fellow leaders.
The nation's 31 million voters have until 8:00 pm (1800 GMT) to cast their ballots.