Baffled police were Friday looking for motives after a parcel bomb exploded at a legal office in central Paris killing a secretary and seriously injuring a lawyer in an attack condemned by French Prime Minister Francois Fillon as barbaric.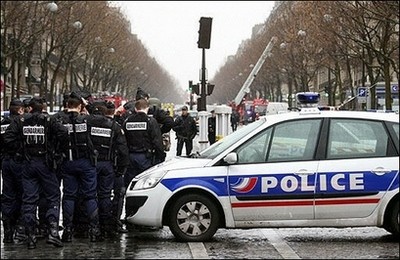 Policemen block the access of the place where a parcel bomb explosion in central Paris killed a legal secretary (Photo: AFP)
Several other people were lightly hurt in Thursday's unclaimed blast on the fourth floor of a building in the capital's fashionable eighth arrondissement or district.

The prime minister "condemns in the strongest possible terms the parcel bomb attack which has cost the life of one person and injured several others, one of them seriously," read a statement from Fillon's office.

He "condemns with vigor such barbaric methods," the statement added.

President Nicolas Sarkozy once practised as a lawyer in the building on Boulevard Malesherbes where the blast occurred, but there was no suggestion of a link. The Foundation for the Memory of the Holocaust also has offices there.

"The motives of the attack are completely unknown for the time being," Paris prosecutor Jean-Claude Marin told journalists at the scene.

Interior Minister Michele Alliot-Marie, who cut short a trip to Brussels to return to Paris, said police were keeping an open mind.

"There is no favored theory... It is too early to be able to come to any conclusions. The other activities in the building were clearly identified, so it seems clear that it was someone in the law firm who was the target," she said.

The booby-trapped parcel containing two explosive devices was brought by courier to the law firm run by attorney Catherine Gouet-Jenselme, 60, police said.

"The two devices went off when it was opened," Marin said.

The secretary who opened the package died and lawyer Olivier Brane, 58, who was nearby, was injured. He was hospitalized but his life was not in danger, Alliot-Marie said.

The law firm deals mainly in civil and commercial affairs, notably in property, Alliot-Marie said.

Fillon vowed to bring to justice "those behind this cowardly and odious act" and offered his condolences to all the family of the deceased as well as promising support to all those affected by the blast.

The investigation was being conducted by the anti-terrorist branch of the Paris police.

Paris mayor Bertrand Delanoe, who visited the scene, said: "We must be very firm and very determined in our condemnation of this crime." His rival in upcoming municipal elections, Francoise de Panafieu, described it as an "odious act."

Justice Minister Rachida Dati reacted with "shock and emotion" and was in close contact with the rest of the government over the attack, her spokesman said.