OAKLAND, California, Nov 14, 2011 (AFP) - Hundreds of riot police dismantled an anti-Wall Street camp in California on Monday, arresting over 30 protesters as US authorities get tough against the two-month-old protest movement.
In the second such action in two days on the US West Coast, officers moved in to clear demonstrators camped out in Oakland, where protests have descended into clashes repeatedly in recent weeks.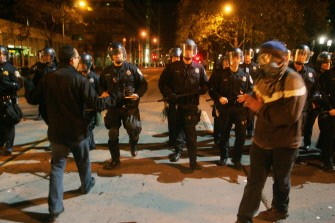 AFP - Police move protestors back during the eviction of the Occupy Oakland camp on November 14, 2011, in Oakland, California.
Oakland Mayor Jean Quan said the early morning operations was prompted by a recent murder that happened adjacent to the camp in the San Francisco area city.
"The encampment had become a place where we had repeated violence and this week a murder," Quan told reporters. "We had to bring the camp to an end before someone else got hurt."
Several people gathering for a prayer service at the site were arrested, as were some protesters who remained in their tents during the operation. Police said 32 people were detained in all.
"I'll be back!" shouted one protester, as she was being handcuffed at the encampment at the site outside City Hall which has been a weeks-long source of tension for the west coast US city.
"We're here because we understand this is our moment and our time to make the world a better place. If we don't do it now, we're going to lose the opportunity," added protestor Nancy Kato.
The Oakland operation came after police evicted dozens of anti-Wall Street protesters Sunday from downtown Portland, up the West Coast in Oregon, making over 50 arrests in one of the latest cities to act against the encampments.
Portland police on Monday released the names and charges of the 51 who were held, whose ages ranged from 16 to 63. Most were cited and then released from custody -- only four were kept behind bars.
The Oakland and Portland interventions came as the Occupy Wall Street movement -- a now nationwide campaign against corporate greed, corruption and growing wealth gaps -- nears its two-month mark on November 17.
They also came after a string of deaths in camps over the last week -- including two from gunshot wounds -- in Oakland and Vermont -- one drug-related in Salt Lake City, and one unexplained in New Orleans.
Protestors have voiced anger at the tougher police clampdowns.
"When working people get up and rebel, we are met with violence," said Kato in Oakland. "Whether it's Greece or France or Oakland or wherever, we're seeing it because the capitalists have to keep us down."
Monday's operation was peaceful, but earlier this month more than 80 people were arrested and eight injured in Oakland clashes following a day of anti-Wall Street protests and strike action.
While there has been mixed public reaction to the ragtag but enthusiastic Occupy Wall Street movement and its affiliates, the official tone has soured in at least one more major city where the protesters have gathered.
"Occupy Philly has changed," Philadelphia Mayor Michael Nutter told reporters on Sunday, citing "dramatically deteriorating conditions" at the site including a change in the people in the camp, and increased reports of theft.
"We're seeing serious health and safety issues playing out on almost a daily basis," he said, adding that on Saturday, a woman reported an alleged sexual assault in one of the tents.
On Monday, Occupy Oakland found itself scrambling to reorganize.
"The plan now is to reconverge at the Oakland Main Public Library at 14th Street and Madison at 4:00 pm" (0000 GMT Tuesday) the movement said on its website.