Police forced Zimbabwe opposition chief Morgan Tsvangirai on Friday to halt his campaign to topple Robert Mugabe at a run-off poll, his party said after he was detained for the second time in a week.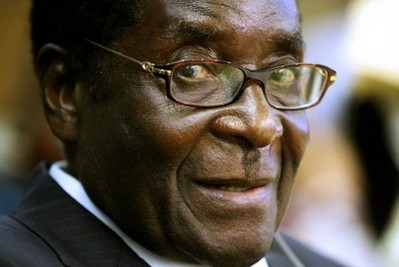 Zimbabwe President Robert Mugabe, seen here on June 3, 2008, has accused Britain of fomenting Western efforts to effect "illegal regime change" in his country by crippling it economically.(AFP/Pool/File/Alessandro Di Meo)

As Mugabe's government ordered charities to halt work over accusations they were biased toward Tsvangirai, the Movement for Democratic Change leader was again frustrated in his attempts to rally supporters for the June 27 ballot.
MDC officials travelling with Tsvangirai in the south of the country said he was initially turned back at a police checkpoint on his way to address a group of mineworkers and told he did not have permission to campaign in the area.
After circumventing the checkpoint and making a couple of unscheduled campaign stops, his entourage were again halted and escorted by officers armed with assault rifles to Esigodini police station. He and his top aides were held there for some two hours of questioning.
"They told us we cannot hold rallies. They said Morgan Tsvangirai should not even conduct those walkabouts as this would attract crowds," MDC chairman Lovemore Moyo told AFP after their release.
The MDC won control of parliament from Mugabe's ZANU-PF in a joint legislative and presidential election on March 29 in which the president suffered the biggest blow to his authority since taking power at independence in 1980.
Tsvangirai beat Mugabe in the first-round poll, but officially with a vote total just short of an outright majority.
The MDC says around 60 of its supporters have been killed by pro-Mugabe militias in recent weeks.
Although it was not immediately clear if Friday's order signalled a nationwide ban on campaigning, Tsvangirai has already faced huge restrictions and has been prevented from holding all but a handful of rallies.
The MDC also said that attempts to hold rallies in township areas of Harare, from where it draws much of its support, had been banned.
According to an MDC statement, police had written to say the gatherings in four townships had all been refused authorisation for security reasons as the party itself had expressed fears of attacks by Mugabe followers.
"The MDC has no access to the public media and the only interaction we have with our members and supporters is through rallies," said the statement.
The letter by a police superintendent, a copy of which was read to AFP, said: "The MDC has communicated far and wide, very loudly for that matter, that the lives of some of your politicians are under severe threat from targeted assassination.
"Our continued investigations so far have failed to confirm your party's allegations but still we are not prepared to take any chances by exposing you to the public who may be possible assassins."
The ruling ANC party in neighbouring South Africa said authorities' move to ban opposition rallies signalled "a grave threat" to holding a fair presidential run-off.
Tsvangirai was also detained for nearly nine hours on Wednesday although police insisted it was only to check vehicle documents.
His latest run-in with authorities came as Mugabe's government said aid groups would only be allowed to resume operations if they pledged not to interfere in politics, accusing them of openly siding with the MDC.
"All NGOs have been asked to reapply for registration," Deputy Information Minister Bright Matonga told AFP. "They were involved in political activities... when they were supposed to complement government efforts."
The decision drew criticism from world bodies and governments. The United Nations warned that its programmes in Zimbabwe would be hit by the ban, and UN humanitarian chief John Holmes said the decision was "deplorable".
The EU Humanitarian Aid Commissioner, Louis Michel, said: "This ban must be lifted right away."
In a country beset by food shortages, aid agencies now play a major role in supplying and distributing staples such as maize and cooking oil.
However, the order to cease all field work marks a dramatic downturn in the relationship.
Save The Children spokesman Dominic Nutt said the group was "seriously concerned... particularly for the most vulnerable children who we work with".
Amnesty International said the ban would "expose millions of people to hunger."