OAKLAND, California, Oct 25, 2011 (AFP) - Police fired tear gas and sound grenades to disperse hundreds of anti-Wall Street protesters in Oakland, near San Francisco, late Tuesday night, an AFP photographer said.
Columns of white smoke filled the streets and sound grenades echoed off the buildings as the demonstrators scattered before riot police, who had earlier arrested scores of protesters and had repeatedly warned them to disperse.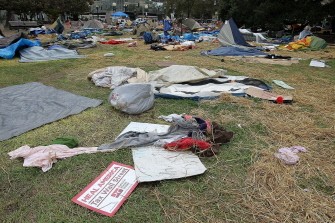 AFP - A sign sits in the remains of the Occupy Oakland camp after police shut the encampment down on October 25, 2011 in Oakland, California.
At least one protester fell to the ground, bleeding from the head and unconscious, after being struck by a tear gas canister. He was later dragged off by fellow protesters, the photographer said.
The protesters later regrouped and started hurling eggs at the riot police, who responded by firing paint-balls at them.
Riot police had arrested 85 people early Tuesday morning as they cleared the Occupy Oakland tent encampment from a square in front of City Hall, the San Francisco Chronicle reported.
A police spokeswoman had earlier confirmed the number arrested without providing further details. Police could not immediately be reached for comment Tuesday night.
The protesters had sought to return to the encampment they had occupied for two weeks as part of the growing nationwide demonstrations against alleged corporate greed and government dysfunction.
Scuffles broke out around 6:00 pm (0100 GMT) when riot police who had blocked the protesters moved to arrest one of them, the Chronicle reported.
Protesters threw turquoise and red paint at the riot police, chanting: "This is why we call you pigs," the newspaper said.
It said other protesters attempted to calm the situation and spoke out against the violence.
"They didn't have to force police into that situation," it quoted Helen Walker, a 46-year-old nurse, as saying. "It was totally provoked, and if I could have, I would have stopped those idiots from throwing paint."