Pakistan police erected a tight cordon Saturday to block lawyers and activists who defied a ban on protests, vowing to march on Islamabad as part of a mass anti-government rally.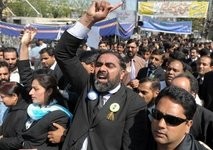 Pakistani lawyers take part in a protest march in Rawalpindi (AFP Photo)
Lawyers and opposition political activists nationwide planned to march on the capital by Monday to press embattled President Asif Ali Zardari to reinstate judges sacked by ex-military ruler Pervez Musharraf.
In response, the authorities have outlawed demonstrations in Islamabad and three provinces, and detained hundreds of activists in the worst such crackdown since Zardari replaced Musharraf last September.
Zardari's government, which is facing its worst crisis over the protests, has been locked in consultations trying to find a compromise deal to defuse a tense standoff with the main opposition leader Nawaz Sharif.
Some 150 workers of former prime minister Sharif's Pakistan Muslim League-N (PML-N) rallied in the Punjab city of Multan on Saturday, from where they were scheduled to march on the capital.
"We will go with lawyers to Islamabad by any means possible," Maimoona Hashmi, an MP for the party, told reporters.
Sharif is demanding that Zardari reinstate judges and end central rule in Punjab, a PML-N stronghold and Pakistan's most populous -- and therefore most politically important -- province.
Police said they would enforce a ban on protests and rallies.
"We have to stop the lawyers and others because they are violating the law," senior police official Karamat Ali told AFP.
As lawyers in black suits and political activists marched down a main road outside the Multan high court, waving flags and punching the air, police said they had sealed off all exit routes from the city.
"Police have blocked all roads, but we will go to Islamabad in small groups (or) one by one," bar association general secretary Rana Naveed Akhtar said.
Multan police chief Saud Aziz said 95 people had been arrested this week since the ban on rallies was enforced.